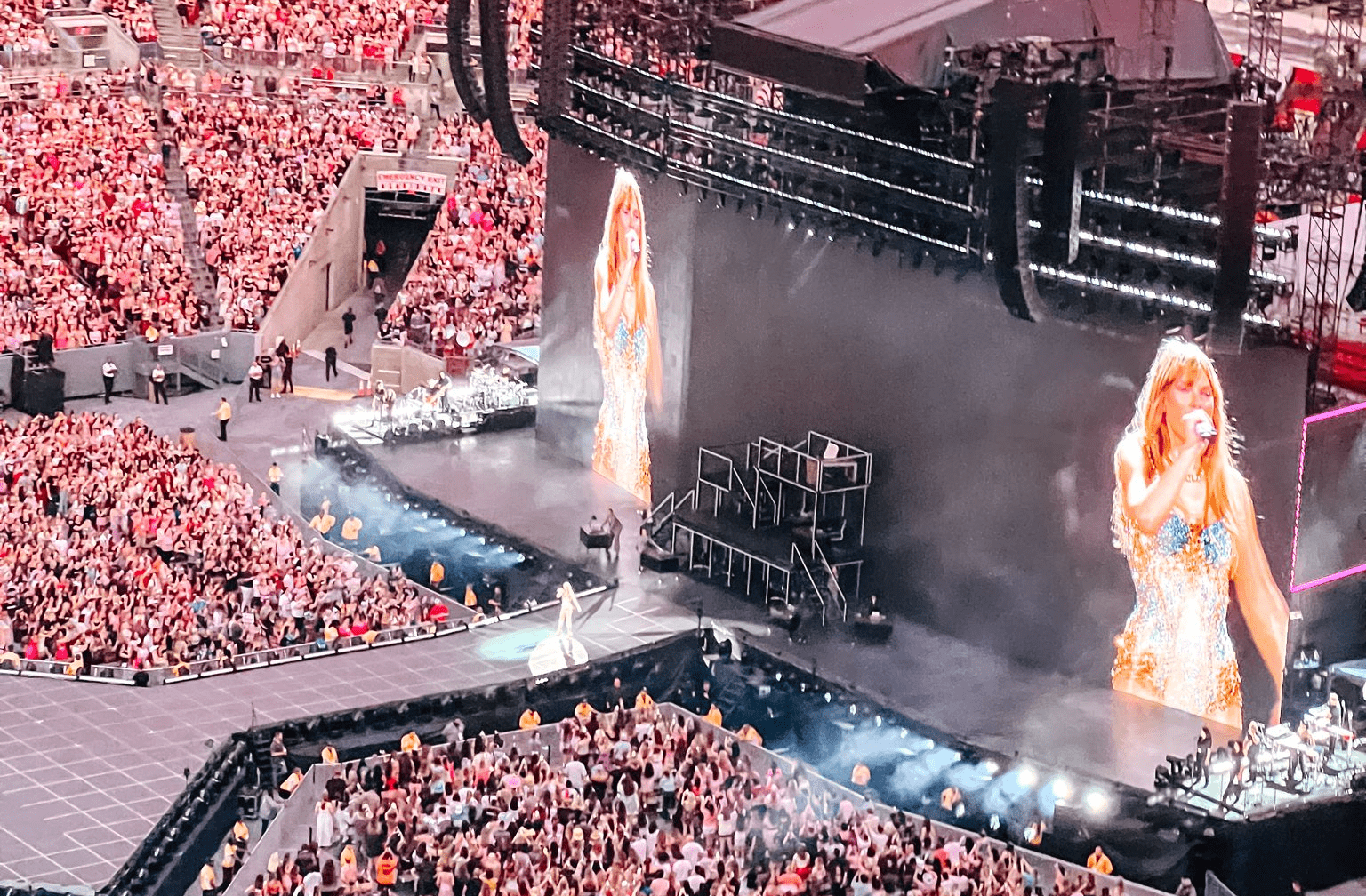 When the idea of writing a Taylor Swift post leading up to her recent three-night stint in Tampa was first floated around, the swarm of Jacksonville Mom contributors volunteering to share their love for Miss Swift was IMMEDIATE. So, what is it about Taylor that absolutely captivates audiences of all ages? Allow me and our other resident Swifties (as we T. Swift superfans call ourselves) to explain.
'She's the most talented songwriter of our generation'
Name: Jess Dinney
Age: 37
Favorite Taylor Song: "All Too Well"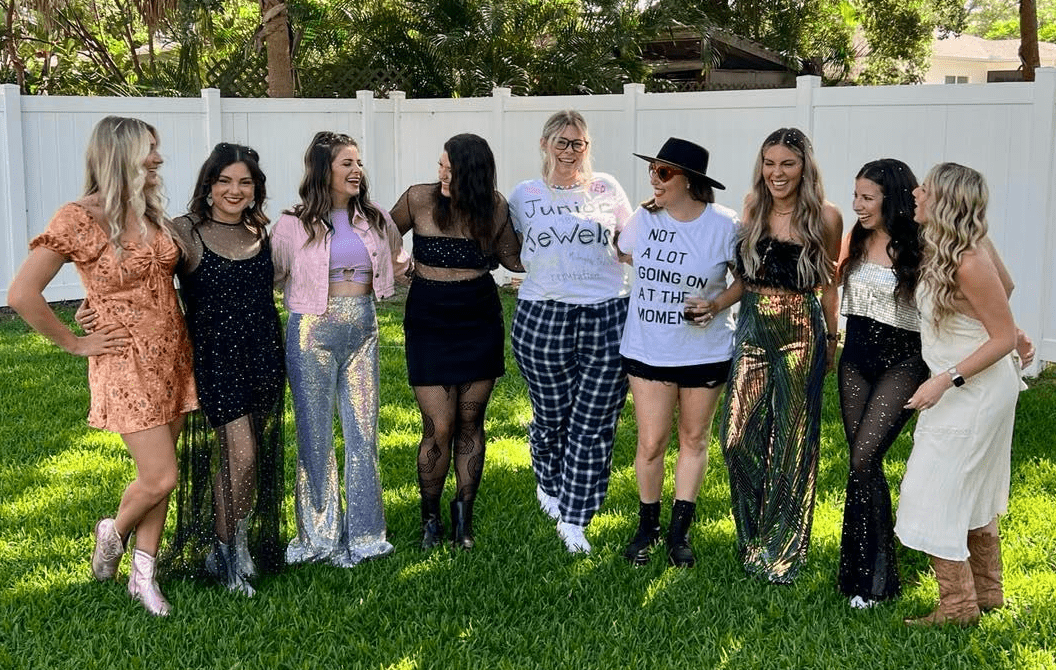 It was 2006, I was freshly home from college for the summer, and I'll never forget the first time I heard a song called "Tim McGraw" by this new artist, Taylor Swift. Not on the radio, mind you, because I grew up in New York where we didn't even have a country music station, but on MySpace. Yes, that's how far back Taylor spans!
I have always resonated more with a song's lyrics than the melody, so when a movie set to her words started developing like a Polaroid in my head, I knew I needed to know more about the songwriter behind it. I excitedly discovered that she was a fellow Northeastern girl with an affinity for country music at a time when it wasn't yet popular in our part of the country. I related to her authentic take on love and life that she presented through her music and how she embraced her awkward side instead of putting up a cool-girl facade.
Now, as an adult woman and mom, I laugh to myself when someone is baffled that I'm still a huge Swiftie at age 37, as if Taylor is still writing songs on her bedroom floor about her first high school heartbreak. Sure, her first single was released when she was 16, but in those 17 years since Taylor has literally grown up before the world, and her music has evolved right along with her. Not to mention, so have her fans! Taylor has been the soundtrack to nearly half my life, there for me in good times and bad. As much as Friends and Harry Potter feel like defining parts of my being, so does Taylor Swift. In my eyes, the most talented (that actually doesn't feel like a strong enough adjective) songwriter of our generation. The voice of the Millennial Girl-turned-Woman. If you find yourself rolling your eyes at that proclamation of mine, I dare you to give "All Too Well" or "Cornelia Street" an honest listen and allow her vivid imagery and diary-esque storytelling to convince you that Taylor is well-deserving of all the hype.
'I never understood crying over an artist… until now'
Name: Blakeley Vinicky
Age: 36
Favorite Taylor Song: "Love Story"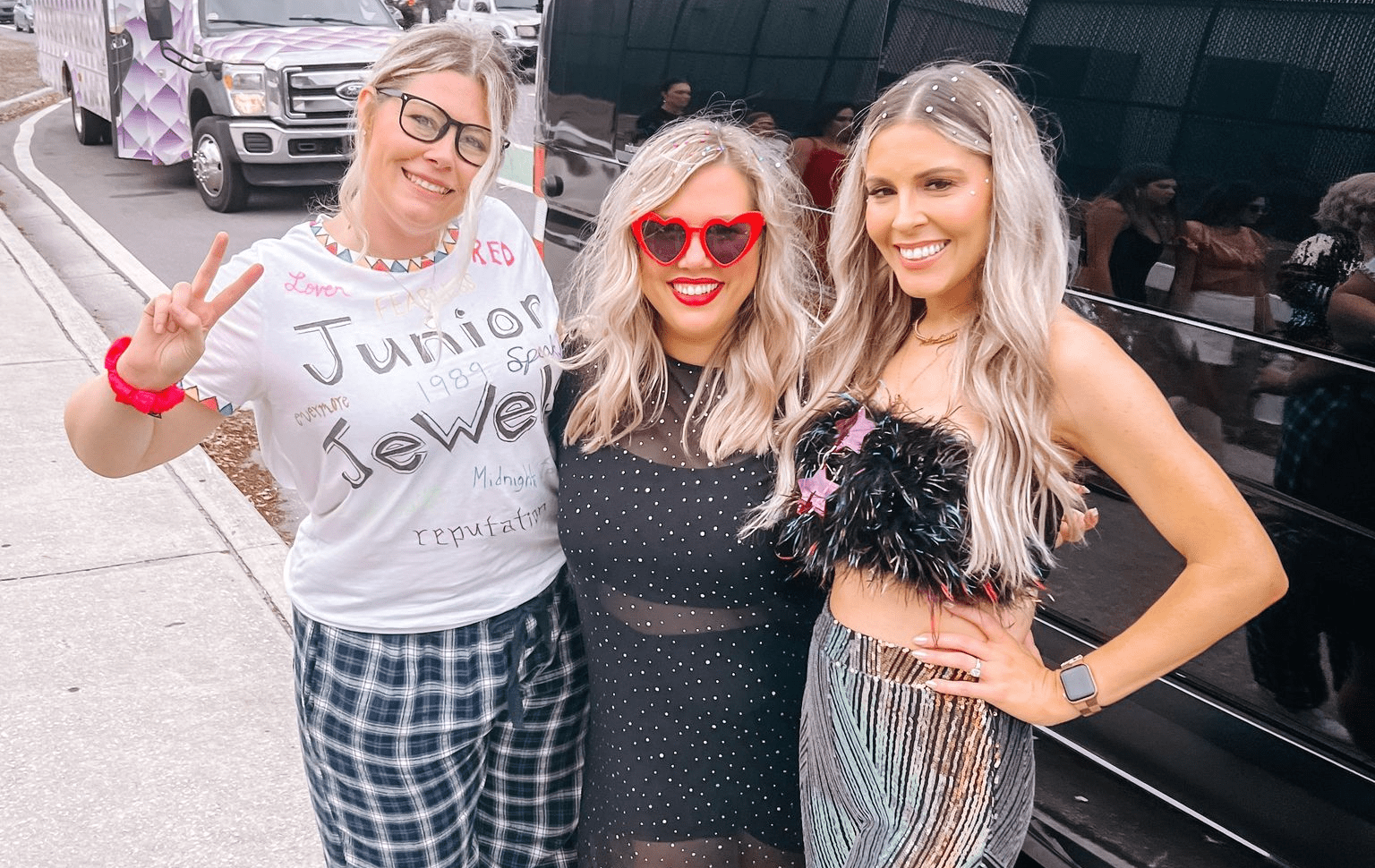 It really is a Love Story, my relationship with Taylor Swift. It sounds so silly to admit the effect that an artist can have on you, but then when I go back and really think about it, it suddenly makes a little more sense. Taylor is just over two years younger than me, which means I've literally spent the last half of my life listening to her music. I could always relate to the things she was singing about because I was in the same stage of life and experiencing similar situations: breakups, losing loved ones, friendships growing apart, silly drama, falling in love, starting new chapters, and even losing a baby (which is what I associate "Bigger Than the Whole Sky" with). Any one of her songs can come on the radio, and I'm instantly transported to a memory of road-tripping with a friend and blasting "You Belong With Me" on repeat, putting together a Mother's Day video for my mom to "The Best Day," shouting "Mean" from the rooftops when I finally ended a toxic relationship, and bawling to "Never Grow Up" while holding my month-old daughter.
I never understood the crying over an artist, but the way she delivers her music with her perfectly curated lyrics just did something to me, and I cried for at least three or four songs. Seeing everyone covered in sequins, sparkles, flowers, and Taylor-themed attire, and hearing them sing loudly every word to every song with the biggest smiles was just something I'll never be able to forget.
'I found a voice to my feelings'
Name: Allison Lore
Age: 34
Favorite Taylor Song: "Cardigan"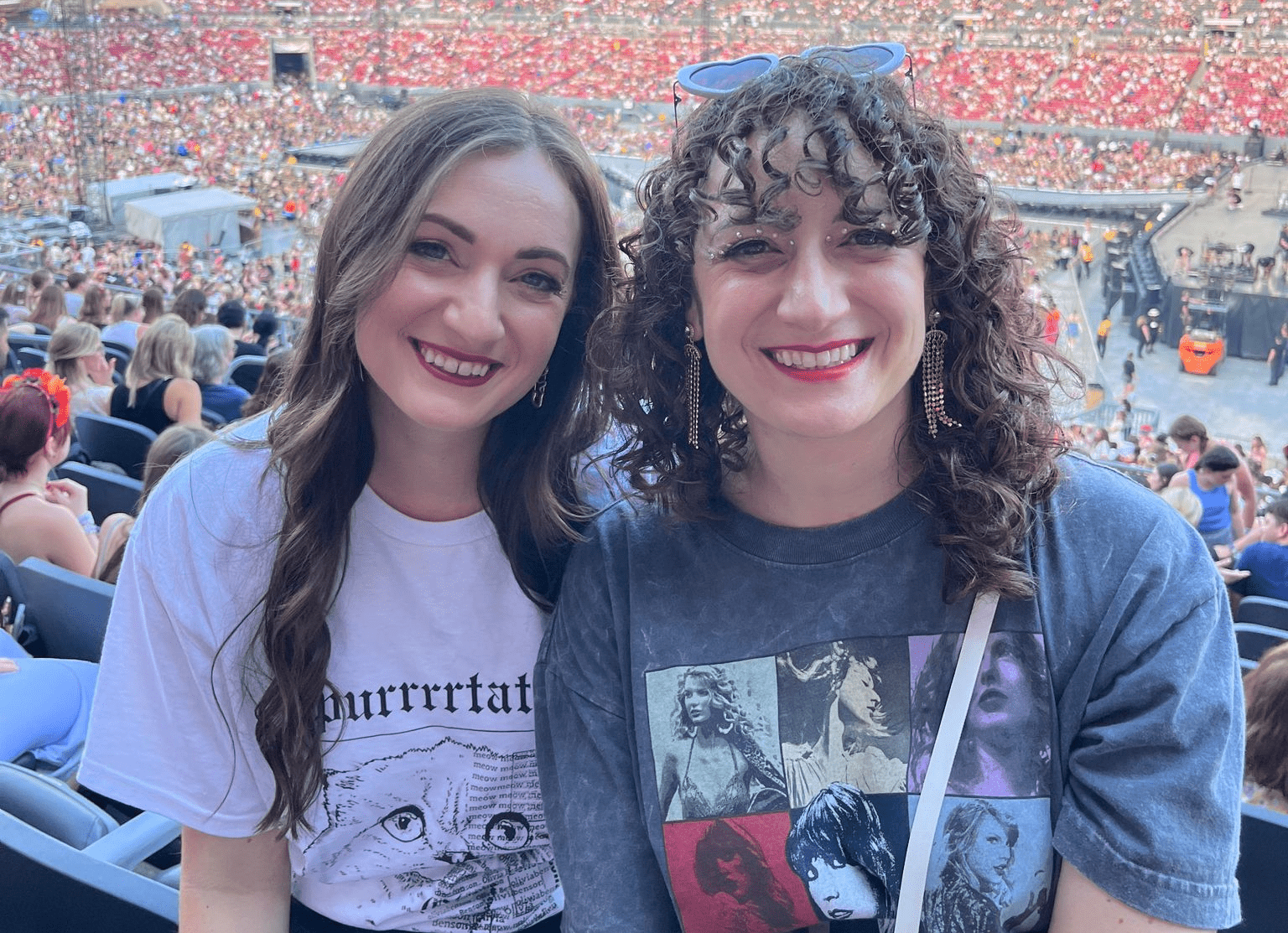 A year older than Taylor Swift, I knew all her radio hits word for word. We played "You Belong With Me" at my wedding. But I never really listened to her full albums until 2020, when she surprise-dropped Folklore. What I found, as I was going through what has been the three-and-counting hardest years of my life, was a voice to my feelings. I found myself explaining my emotions using her song lyrics, some of which were pure poetry. I can't tell you how many times I've cried in the car to "and I couldn't be sure…I had a feeling so peculiar… that this pain wouldn't be forevermore."
Once I was hooked, I found layers upon layers in all of her songs — the writer in me loved the metaphors, literature nods, and her love of how the word "hoax" looks in print. And of course, her ability to write killer hooks and bridges.
I feel blessed to live at the same time as Taylor Swift and am so excited to have seen her live for the first time! I can't wait to see what she does next.
'Seeing my daughter smile so big and sing so loudly is a memory I'll never forget'
Name: Krista Dyr
Age: 33
Favorite Taylor Song: "Death by a Thousand Cuts"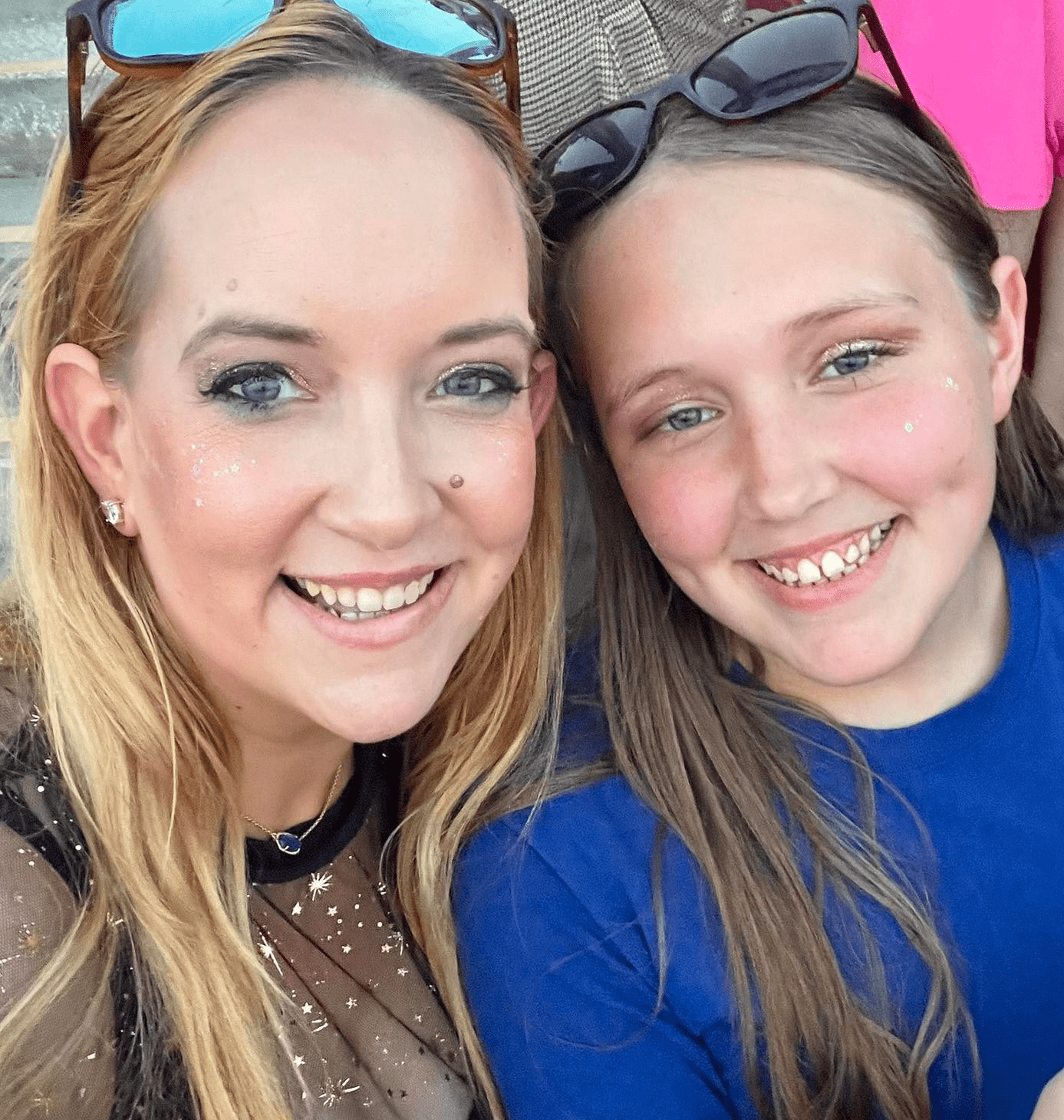 I decided to bring my 13-year-old daughter to her very first concert — and who's better than Taylor Swift?! To say the adjustment to teenage years has been a struggle would be an understatement, but I've learned that most of the time what kids need is some quality time. So, we had the most amazing mother-daughter trip to Tampa. Seeing her smile so big and sing so loudly is a memory I will never forget. Having her hug me and tell me she loves me during a particularly emotional song was better than any therapy. But that's what Taylor is for so many people, therapy. She manages to write about the entire spectrum of human emotion in a way we mere mortals can't. I've found comfort in her music for years and years, and I'm so thankful my daughter now has the chance to, as well!
'Taylor is therapy for my soul'
Name: Corinna Hoffman
Age: 41
Favorite Taylor Song: "Love Story"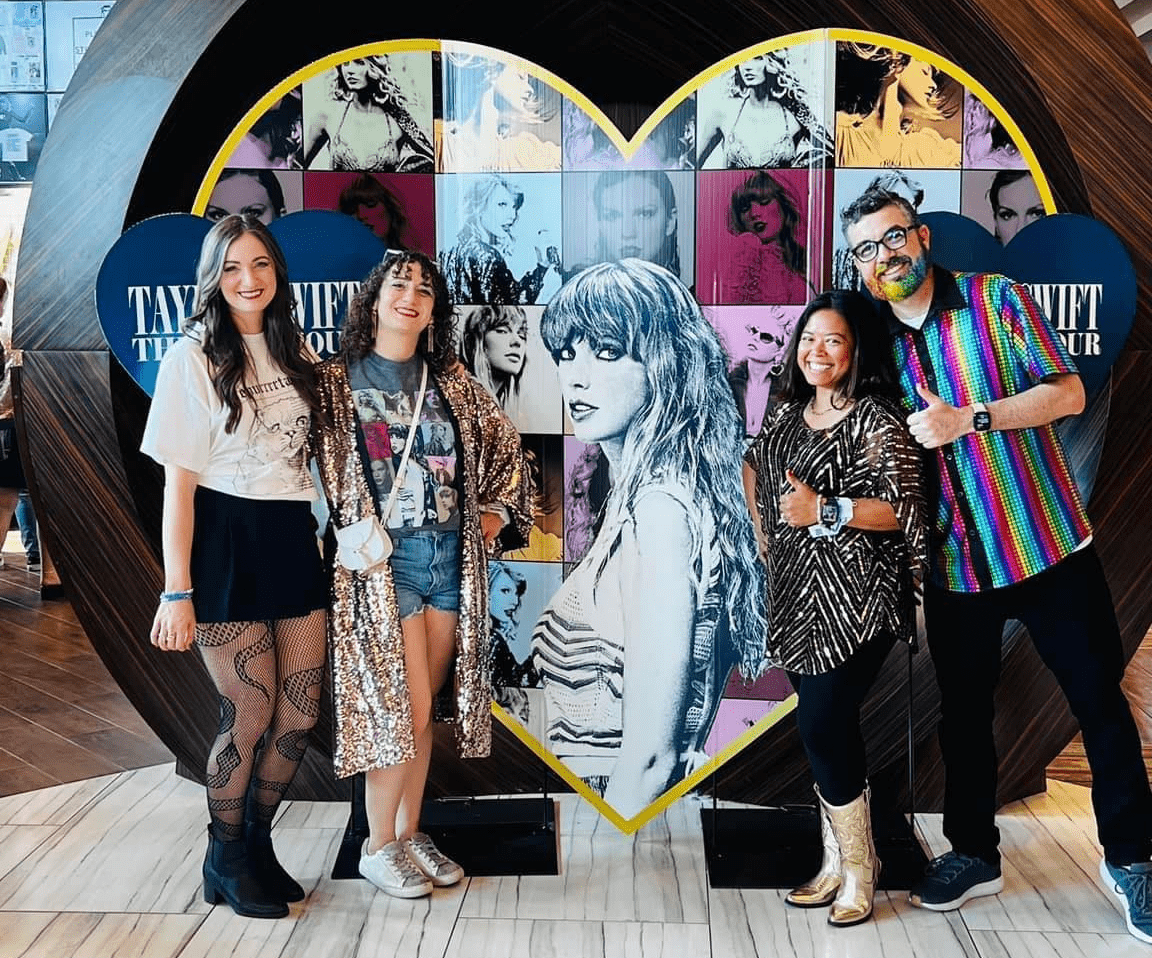 Taylor Swift has a unique way with words and storytelling that is totally relatable to what I'm going through at that current phase of my life. It's like therapy for my soul. The melancholy ones that make you cry, and the songs that just make you wanna dance and lose yourself to are all so good. Plus, her songs have super catchy lyrics, so they are easy to sing along to, as well. I once put "Welcome to New York" on repeat during my whole entire flight to NYC from JAX! When my son was a baby, he would cry and fuss, and, like magic, the "Love Story" music video would instantly keep him quiet. After all, he was in my womb when I went to Taylor's 1989 album concert tour.
Why are you so obsessed with Taylor Swift? (Because admit it… you are, too.)