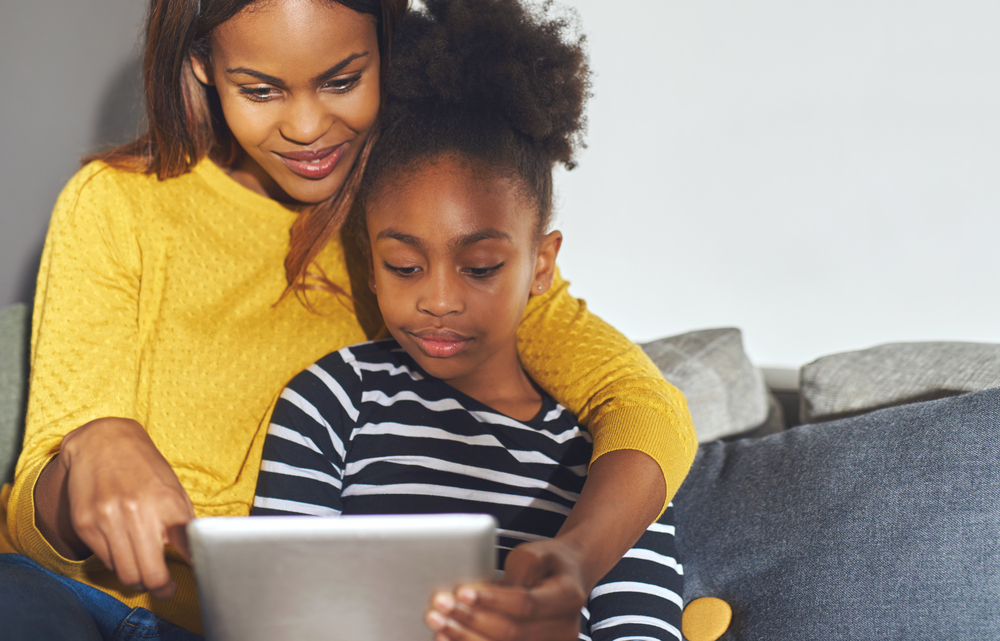 There is no denying that the beginning of this school year is like nothing we have ever experienced. Typically, this time of year is chock-full of fun traditions and not-so-fun getting back to routines. This is when we shop for school clothes, scour the aisles for elusive color-coded school supplies, and marvel at how much our babies have grown over the summer. But this year there are still so many unknowns.
Brick and mortar, at-home learning, or virtual learning — whatever path your family is on, we all have at least one thing in common: For many of us, we know that there will be little "routine" about this year's back-to-school routine. Helping our children prepare for the extraordinary and likely ever-changing requirements this year will bring is a massive undertaking. With every job I have ever held, continuing education has always been an essential part of job performance. And I personally, think parenting is no exception. If you are feeling a little overwhelmed about whatever is about to come your way, consider reaching out to professional academic organizations to find training that can help you better support your child this year.
Here is a quick list of some free trainings and online discussions that may help you and your family adapt and thrive as we head back to school in the midst of uncertain times. Some of these webinars are diagnosis-driven, meaning they specifically address topics such as the impact of Down syndrome, anxiety, ADHD, autism, and other specific diagnoses. I invite you to consider joining in on a few that may not seem relevant to your specific child, as there is so much that can be gained by listening and learning to broader needs and interests than our own.
Distance Learning and the Organized Child by Richard Gallagher, PhD, Elana G. Spira, PhD, and Jennifer L. Rosenblatt, PhD: Helping kids manage their schoolwork on a regular day can be overwhelming. Helping them manage their schoolwork during a pandemic brings new meaning to the word. While managing the COVID-19 outbreak, we have the challenge of becoming our kids' school guides as they set their schedule, manage their passwords, navigate needed websites, and complete assignments on time. This webinar discusses how parents can adapt tested methods to help families meet the demands of distance learning. This webinar is available for replay now.
Preparing Yourself for Home Learning by Sean J. Smith: This NDSC webinar assists parents in adjusting to online learning in the home setting. Sean J. Smith, professor of Special Education at the University of Kansas and an NDSC board member, will help you prepare your home environment and help you find balance during this shift to a new normal. This training is available for replay now.
Ready, Set, Pivot by Dr. Sharon Saline: In this webinar, Dr. Sharon Saline offers practical, collaborative tools for addressing your family's concerns about setting up a successful start to the school year. You'll learn how to create effective daily routines, cope with anxiety about COVID and social contact, manage challenges with online learning, and balance screen time, as well as how to set up daily routines that reduce conflict and build skills for independence, how to deal with general anxiety and health and safety concerns, how to improve flexibility and cooperation, how to address issues related to childcare and home learning, and how to advocate for the educational needs of your child or teen in this new academic environment. This training is available for replay now.
Rev Up Your Child's Executive Function Skills for the School Year by Elizabeth A. Sautter, MA, and Rebecca Branstetter, PhD: In this hour-long webinar, learn practical ways to get your child's brain back in "school mode" so they are ready for a successful school year, no matter how that looks. If you have tried teaching executive functioning strategies that never seem to "stick," there is good news — this webinar will offer evidence-based approaches to reboot your child's brain to listen, pay attention, and follow-through at school. In this webinar, you will learn: How to "turn on" your child's brain for listening, focus, and paying attention, how to "Zone the Home" for a smooth transition back to school, simple mindfulness strategies to boost EF, and effective approaches to increase follow-through when you ask your child to do schoolwork. This webinar is scheduled for August 11, 2020. Registration is required for participation. 
Reassessing Goals and Priorities After a Pandemic by Michele Novotni, PhD: Could it be that this "Global Pause" actually affords all of us the rare opportunity to redefine what we would like our "new normal" to look like? To evaluate what's really important in life? To learn new strategies to guide us toward happiness after the pandemic? In this webinar you will learn the following skills:
Takeaways. Lessons learned from this "clearing the deck" exercise. As all the business of our lives has ground to a halt, it's a great time to evaluate what you actually want to put back into your life as things get started back. What actually brings you and your family joy? What is actually beneficial for you? What might you now want to let go of?
Learn the cognitive behavioral technique to help you develop a healthy frame of mind for managing stress and becoming successful in this new environment.
Resetting to this new normal. Learn how to take stock by assessing your current baseline — successes and areas in which you desire improvement. Checklists and graphs that may help.
Developing a resilience mindset. Learn how to make specific behavioral changes that can help you better weather this situation, as well as others in the future. Learn the importance of being kinder and gentler to both yourself and others. Humor and connection may help.
Strategies, structures and supports. Learn ways to set up new processes to deal with your ever-changing world. Developing structure in your day, shopping, communicating, playing, being productive and keeping you and your family safe. This training is available now for replay through August 30, 2020.
How to Help Children with Attention Problems Navigate Remote Learning by Timothy L. Verduin, PhD: Widespread school closures caused by COVID-19 have parents managing their children's remote learning, often while working from home themselves. This challenge is especially daunting for parents of children with attention and executive functioning impairments, such as ADHD. In this webinar, Dr. Timothy Verduin discusses how to help children with attention problems navigate remote learning. This webinar is available for replay now.
Behavioral Activation: Fighting the COVID-19 Blues by Dr. Eric Lewandowski, PhD: The COVID-19 pandemic has dramatically disrupted the usual routines of teens and families. While introducing unprecedented stresses into our lives, it has also made it more difficult to access our usual sources of support and wellbeing. Under these circumstances, teens are likely to feel distressed and are at increased risk of mood problems, including depression. In this webinar, Dr. Eric Lewandowski discusses ways for families to support teens during this time. He also reviews more focused approaches for supporting teens with depression and provides guidance for when to seek professional support. This webinar is available for replay now.
Breaking the Chain of Emotion Dysregulation in Families by Dr. Giselle Colorado: Everyone experiences moments of emotional vulnerability and sensitivity and can benefit from more effective coping skills. When living with an emotionally sensitive child or adolescent, families can often find themselves in invalidating patterns of communication, making it difficult to remain mindful and connected. In this webinar, discusses how invalidating communication patterns develop and provides practical strategies for reducing invalidation and fostering validating patterns of communication between parents and their children. This webinar is available for replay now.
How to Handle Your Own Emotions and Anxiety About Back-to-School by HuffPost Editors: This is a series of summer virtual events with a special look at the struggle's parents have been facing during these challenging times marked by the pandemic and social protests. The series of three events on parenting starts with ways to cope with the anxiety of back-to-school planning. This webinar series is currently sold out for live Zoom attendance, but it is available recorded online.
What are you doing to better prepare yourselves for the school year?