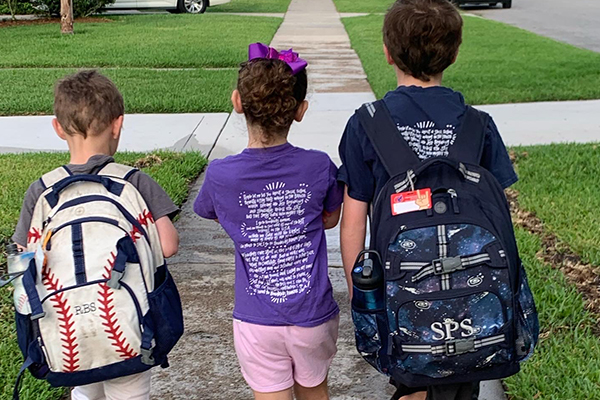 School is almost out, and I am happy and sad about that. Happy because the camp schedule will be easier on me, I won't have to force them out the door by 7:30 every morning or make lunches (most nights anyway) or clean out thousands of pieces of scribbled crayon drawings from my kids' backpacks every day. Sad because with the year over I will no longer be able to do something that's been really special to me  — walking them to school.
I don't get to do it every day. Usually, my husband takes them in the mornings while I head off with my oldest, who attends the school where I work. But there are days off I have that they don't have, breaks that don't match up, and starting and ending days that don't align, and on those days I absolutely love walking them to school. Sure it can be stressful, especially when we bring the dog, when they want to ride their bikes (Ahhhh! Three elementary schoolers on bikes crossing two major roads!!!!), or it's a thousand degrees outside. But mostly it's a treat that I really consider a gift.
It's an extra 20–30 minutes every morning with them. We point out flowers. We see friends. We talk. I get to hear what they have to say in an environment that isn't rushed, crowded, or overwhelming. Some precious days I only walk my third grader to school, and the five seconds he still slips his hand into mine make my heart melt. He shares all these amazing facts he's stored in his head, and they tumble out in one long sentence like eager puppies. He is able to talk without his twin siblings interrupting him every second!
Sometimes I just walk our twins, and I get to witness sweet moments when they hold hands with each other, pick flowers (weeds) for me from the field, or stop and see the pumpkins in the pumpkin patch that shows up in October. They get so excited.
Now that school is almost out, we won't be walking in the mornings anymore, and next year all four of our kids will be in my school, on my schedule. I am thankful for the logistics of this and the wonderful family I know they are joining. But I am sad because I won't be able to walk them to school anymore. Their new campus is much too far away. So I'll have to find some time in the day to make walks with them a priority somehow. It is the best part of my day and such a special time with them. Walking them in the mornings has truly been a gift. I am thankful for it.