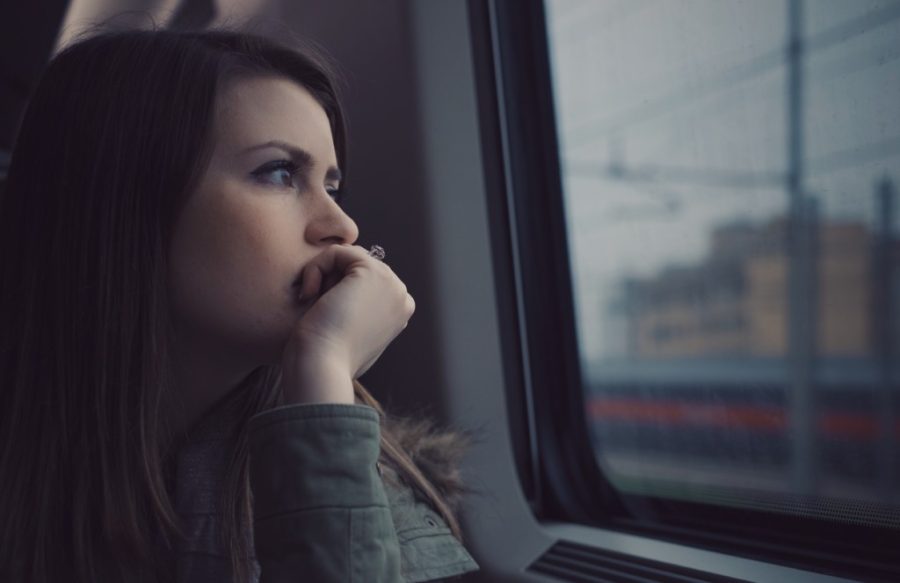 Confession: Several years ago, I was diagnosed with generalized anxiety disorder, which is a fancy term for the fact that I worry excessively for (usually) no good reason. For instance, this is my brain on anxiety: My husband is only pretending to be in love with me and is actually plotting divorce. My 5-month-old is going to choke in his sleep, so I will check the monitor 27 times. Jane and I are no longer friends because she hasn't responded to the text I sent five minutes ago. And if Jane did respond, she no longer likes me because her message didn't include any exclamation points.
It's exhausting, really.
Thanks to a bit of therapy and a small dosage of Zoloft, I am able to (sometimes) keep those irrational thoughts at bay. But let the record state that I suffered for years before getting help, and if those closest to me had been trained to recognize the warning signs of anxiety and possibly even PTSD over the loss of my mother, this might have been a different blog post entirely.
Lucky for us, North Florida is offering FREE mental health first aid training to teach first responders and Florida residents how to identify, understand and respond to signs of mental illness before it hits crisis status. According to Melanie Patz, Vice President of Community Investment and Impact for Baptist Health, this includes any and all forms of mental illness, such as depression, anxiety and alcohol and substance abuse. A collaboration of Jacksonville's non-profit hospitals (Baptist Health, Brooks Rehabilitation, Mayo Clinic, St. Vincent's HealthCare and UF Health Jacksonville), the free eight-hour course is part of a three-year goal to train 10,000 people in Northeast Florida by 2019. Did I mention that it's free?
Patz continued, "The program has been proven through research to reduce the stigma that we may feel toward mental illness, and because people are trained to have a conversation with someone who is exhibiting the warning signs, it does reduce crises that occur."
More About Mental Health First Aid Training
An initiative of Mental Health First Aid USA, the training takes the fear and hesitation out of having what could feel like a difficult conversation with someone struggling with a mental illness or substance abuse. Anyone and everyone is encouraged to register for a class, seeing as we all know someone struggling with a mental illness, even if we might not realize it.
"We want everyone to be involved," Patz said. "It is important for first responders to participate in the training, however, we all know people who have mental illness and are exhibiting signs, so it's really important for anyone and everyone to take it. Statistics indicate that 1 in 5 people have a mental illness in any given year. That means in the course of our days, we are coming into contact with a lot of people who could be exhibiting the signs of a mental illness and need help."
Expectant parents who may be susceptible to postpartum depression may especially benefit. "This is a great course to take for expectant parents or anyone who is going to have regular contact with a new mom or dad," she added. "As you know, men also can get postpartum depression. The challenge is recognizing that that is what you're going through. The benefit is having another person around you who can help recognize those signs and help you get assistance if you are experiencing that."
Several courses are scheduled in the coming months, and if you expect to attend a session where you merely sit at a desk for eight hours and take notes, think again. Not only is the course incredibly interactive, participants will leave with resources and an action plan to safely and responsibly identify and address a potential mental illness or substance use disorder.
"There is role playing to help people feel confident in talking with someone who is exhibiting warning signs," Patz explained. "And there are videos and group activities to help you better understand the warning signs and how you can respond to those signs."
Patz, who personally participated in one of the training sessions, has already benefited from what she has learned. "I took the class a year ago, and since then, not only has my understanding of mental illness increased, I actually have been faced with a couple of situations where I was able to utilize the information," she admitted. "I was speaking with a good friend, and I realized during our conversation that she has some of the warning signs of a mental illness. So in talking with her and her daughter, we were able to get her assistance. Another situation came up, a totally different friend in a different state, where my friend was experiencing panic attacks. That is one of the areas that is role played during the training. I was able to talk with her and help her during that situation."
To learn more about the initiative in Jacksonville or to register for a FREE course, visit JaxMentalHealth.org.