I think my kids think I'm magic, but how can I blame them? I do seem to always make it happen — whatever IT is. This time of year, the "it" seems to be Halloween costumes. From last-minute festive outings with friends to school parties to trick-or-treating, there's always an occasion that requires a different costume. After years of last-minute requests and the inability to find what she's looking for, we've mastered the lazy tween guide to Halloween costumes.
READ: Jacksonville's Guide to Halloween and Fall Festival Fun
It's actually quite simple. Go to your closet, see what items you already have available, and create a character or look around it. Not only does it save money and time, but working together to create the look is always a fun bonding experience. Today I'll be sharing with you a few last-minute Halloween costume ideas. Our version of Barbie, a Powerpuff Girl, and a blast from the past '80s theme.
The Costume: Barbie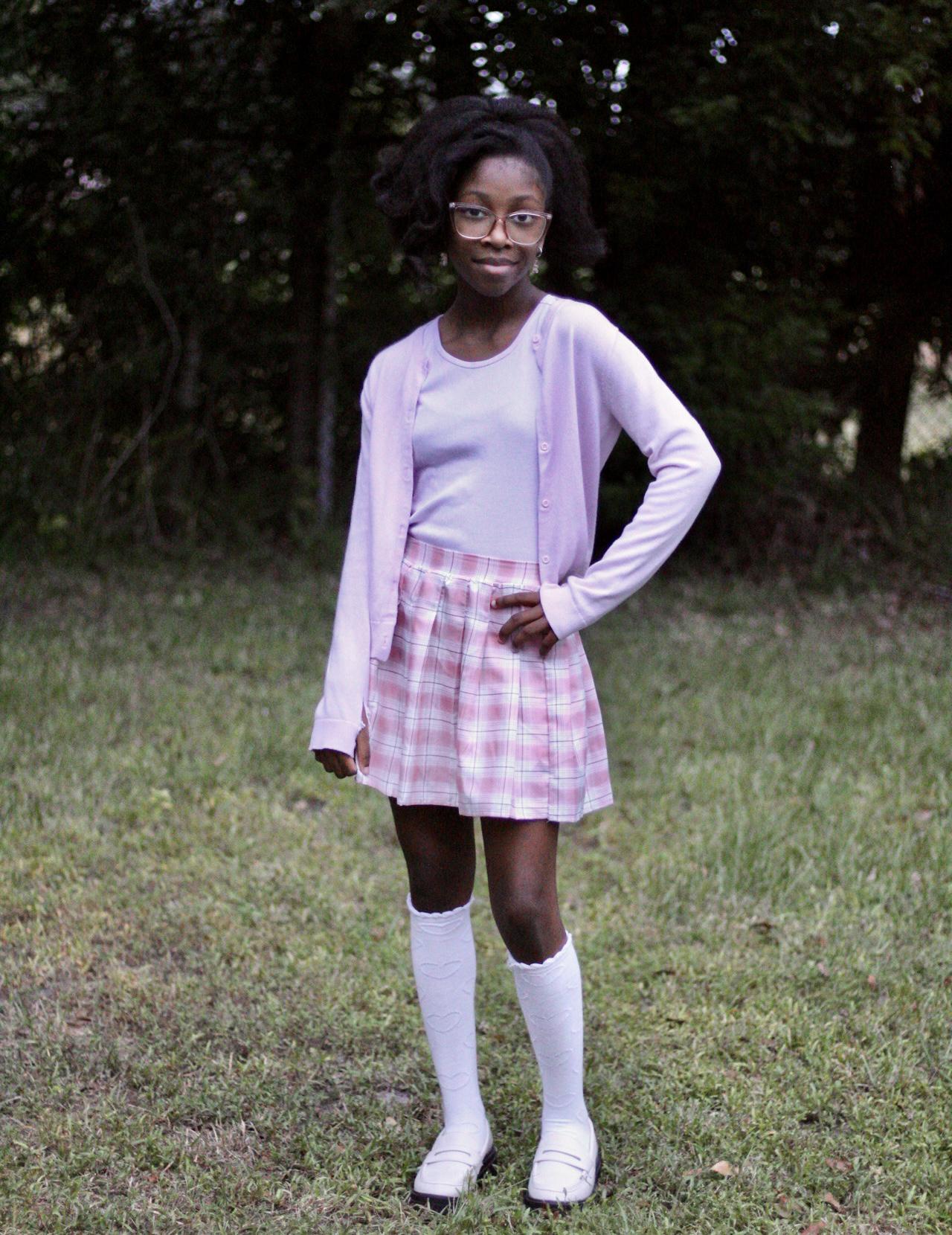 Hey, Barbie! With the release of the Barbie movie, this costume is a popular one and luckily for everyone, Barbie does just about everything so you can't go wrong creating a Barbie look. We kept it simple and just went with Barbie's signature color: pink. Pink is my daughter's favorite color, so this was probably the easiest the create. Along with a cute pink outfit, we decided to style her hair with a Barbie ponytail to pull the look together.
What we used:
Pink cardigan
Pink tank top
Pink pleated skirt
White knee-high socks
White shoes
The Costume: Powerpuff Girls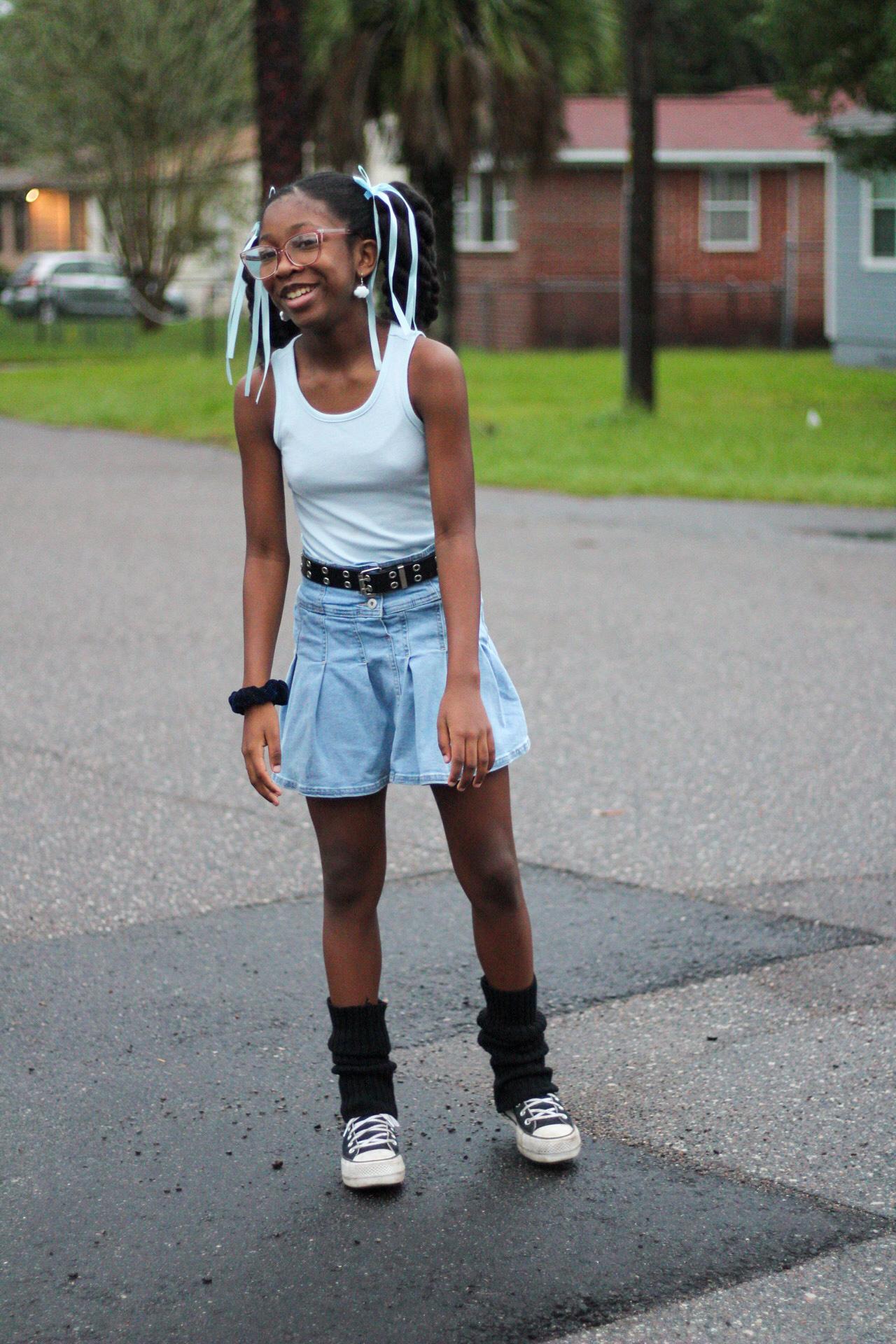 Sugar and spice, and everything nice! Are your teens' friends planning a group costume? The Powerpuff Girls is a classic group costume. The decision to be Bubbles was simple because we already had everything blue at home. With a blue-themed outfit and her hair put up into two ponytails, the outfit was quick and easy.
What we used:
Two blue ribbons for her ponytails
A basic blue tank top
A blue denim pleated skirt
A black belt
Black sneakers
The Costume: '80s-Inspired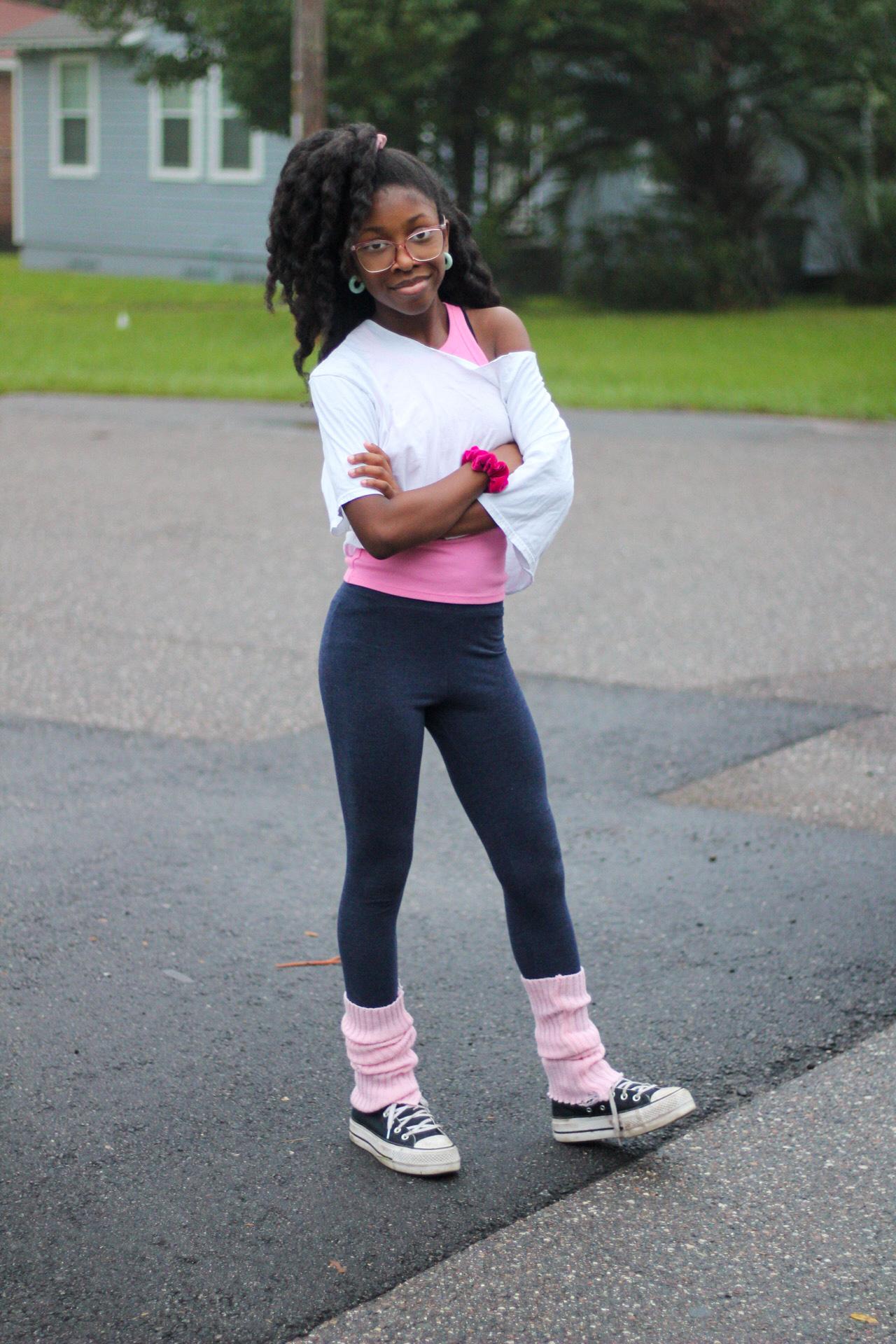 Girls just wanna have fun! And this girl had so much fun putting this look together. Fun fact: Before this costume, my daughter was not a fan of leggings. Luckily for her, her sister loves them so we were able to pull it off without having to purchase anything new. I mean, that's really the idea behind these costumes — use what you already have! This '80s-inspired costume was easy to pull off because even though she wasn't too fond of leggings, she's obsessed with leg warmers and scrunchies. Her naturally big hair is what really pulled the look together for me. A quick side ponytail with one of her many scrunchies, and the costume was complete.
What we used:
Scrunchie
Tank top
Off-the-shoulder crop top (This can easily be made if you don't already own one. Simply take an old shirt, crop it, and cut the collar around the neck off!)
Leggings
Leg warmers
Sneakers
The Costume: A Witch and a Cat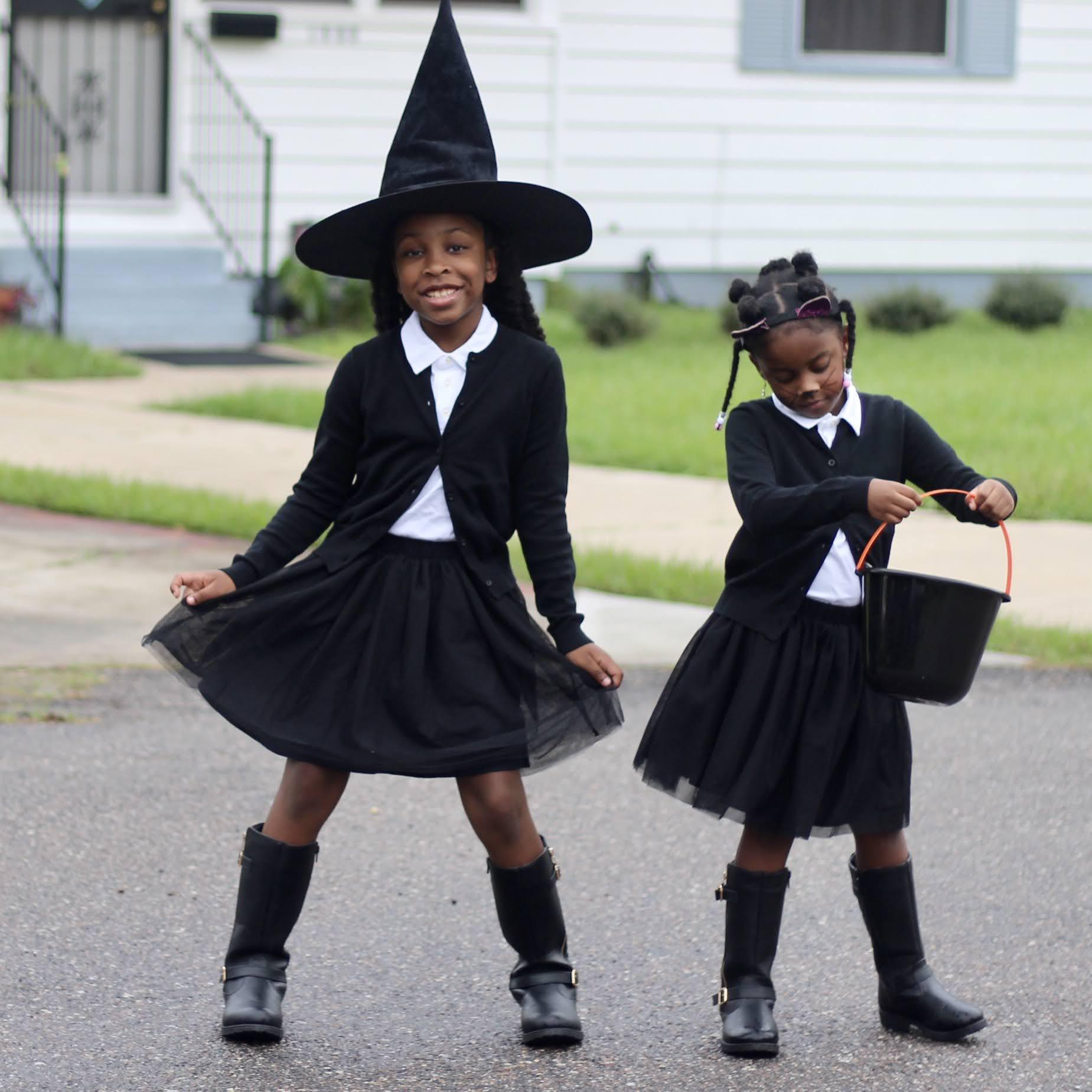 While we focused on my teen in this post, we've done this over the years at all ages. Halloween is my kids' favorite holiday, so they will use any excuse to dress up. Here are lazy Halloween costume inspirations from when my girls were younger. We used the same base outfit and created two different costumes. My oldest was a witch and my youngest was her favorite, a.k.a. a cat.
What we used:
Black cardigan
White shirt
Black tulle skirt
Black boots
A witch hat
Cat ears
Halloween is such a fun time of the year, and dressing up is one of its highlights! Make it stress-free and easy. Each of these Halloween costumes was easy to recreate because we chose themes around what we already had available. Feel free to tweak these last-minute Halloween costume ideas with whatever you have on hand or recreate entirely different looks based on what you have available in your closet. Have fun with it and get creative. Happy Halloween!