Pom-poms and tassels are popping up everywhere for spring and summer, and I couldn't be happier about the whimsical trend. (Bright colors are kind of my thing!) I've recently seen them make appearances on sandals, hats, dresses, and of course, straw bags. So with beach season upon us, I thought it would be fun to make a DIY straw beach bag featuring colorful pom-poms and tassels. This is a simple project, but it makes a big statement. And I think you'll agree that it's hard not to smile while carrying such a fun, bright bag! Let's get to it…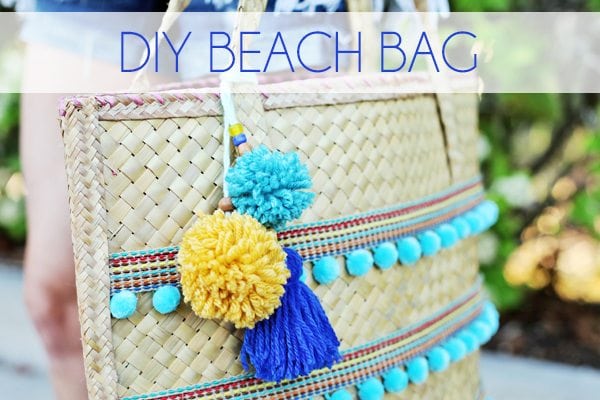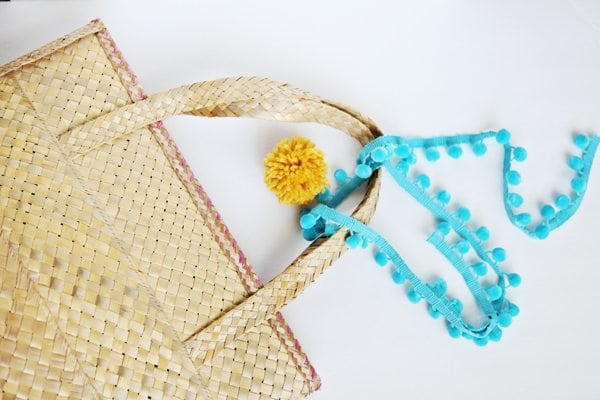 Step 1: First I went to a local Goodwill store (Beach Blvd. & St. Johns Bluff) and bought a large straw bag for $3.99. I knew the chances of finding one were good because I often see straw bags of all shapes and sizes in thrift stores around Jacksonville! They had several sizes available, but I went for the largest one. When you're a mom, you need an extra large beach bag!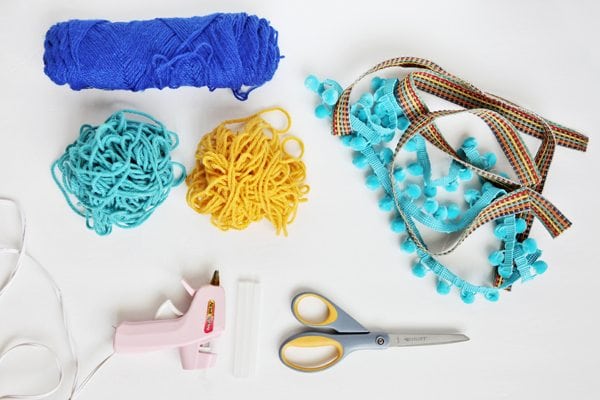 Step 2: Next I thought about the look I wanted for the bag and gathered some supplies. I already had everything on-hand except for the turquoise pom-poms and colorful raffia trim. Several different types of glue would work for this project, but I decided to go with my trusty old glue gun. 🙂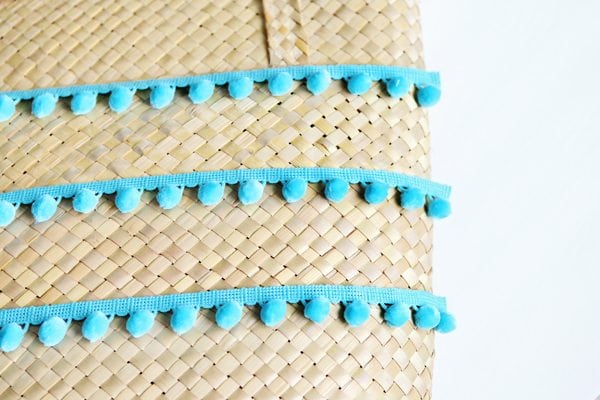 Step 3: This is where I got to work! I laid out the pom-pom trim exactly where I wanted it, then cut it into three strips. Thankfully my bag had horizontal seams, so I used those to easily determine where to put the trim. Once it was cut to fit, I began gluing small areas at a time to the bag until all three lines were completely glued down.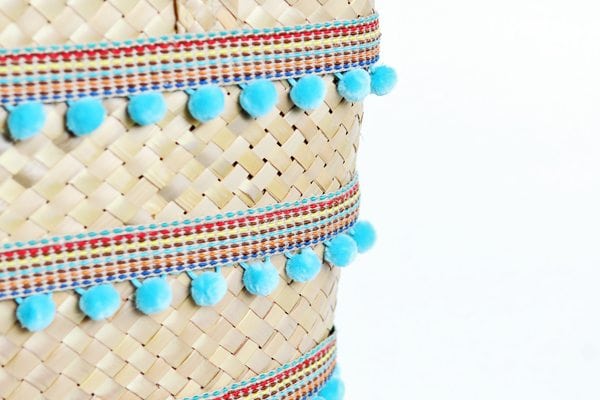 Step 4: Using the same method as Step 3, I measured and cut three strips of the raffia trim. Then I glued the strips on top of the pom-pom trim so that only the balls were showing. You could totally stop here, but I wanted to add a little extra embellishment…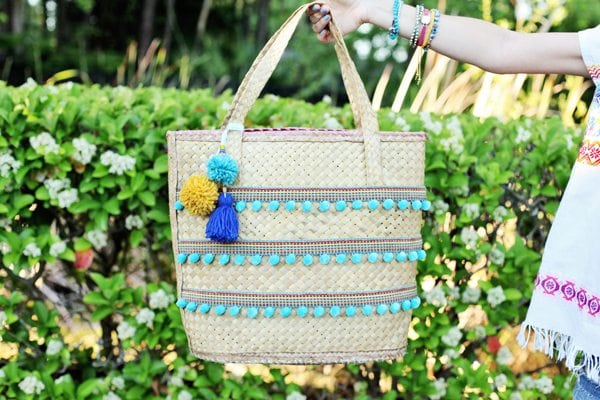 Step 5: Using this method (This is a great tutorial video, and she has the best British accent! If I made one it would have a southern accent!) I made some big yarn pom-poms and a tassel and tied them to one of the bag handles. I didn't plan to add these but think they add that little extra "something" that my bag needed!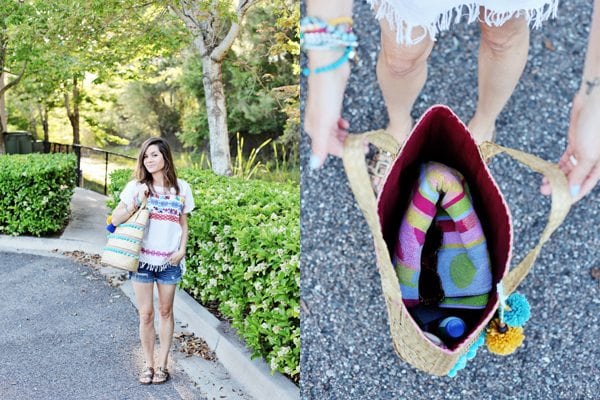 That's it! Simple, right? I love how it turned out, and for less than $15 I have a fun beach/pool bag that I'll use all summer.
If you love the look but don't love the idea of thrifting a straw bag, fear not! I found some plain ones for less than $30 that you can have delivered right to your front door before adding your embellishments. Check them out here, here, and here. And if you need a little encouragement before taking on a thrift store, I wrote a post with some simple tips to make it a little less overwhelming! You can read it here.
And if you just aren't feeling crafty at all, I also found some cute straw bags that don't require any hot glue. 🙂 These are five of my favorites: 1, 2, 3, 4, 5.
About the Author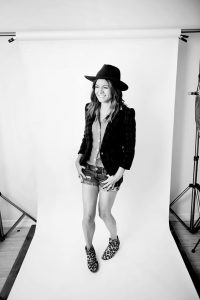 Lyndsay Almeida is a lifestyle photographer based in sunny Jacksonville, Florida. Her motto is: "Life is messy. Life is beautiful." And as a visual storyteller, her goal is to capture the sometimes messy (but always beautiful!) moments in life – for her own family and her clients. She is passionate about working with families and though she's based in the Sunshine State, she sometimes travels to clients for photo shoots.
Lyndsay also writes a lifestyle blog with an international following. There you'll find her recent photo-shoots, crafty projects, style posts, photography tips, and a lot of rambling about her family and faith. She loves doing life on the First Coast with her husband, Anderson, and five-year-old, Kingston Rock. Thrift stores are her favorite places to shop, and most of her "down time" is spent hanging with her boys and making crafty DIY projects and decorating (and redecorating!) her home.