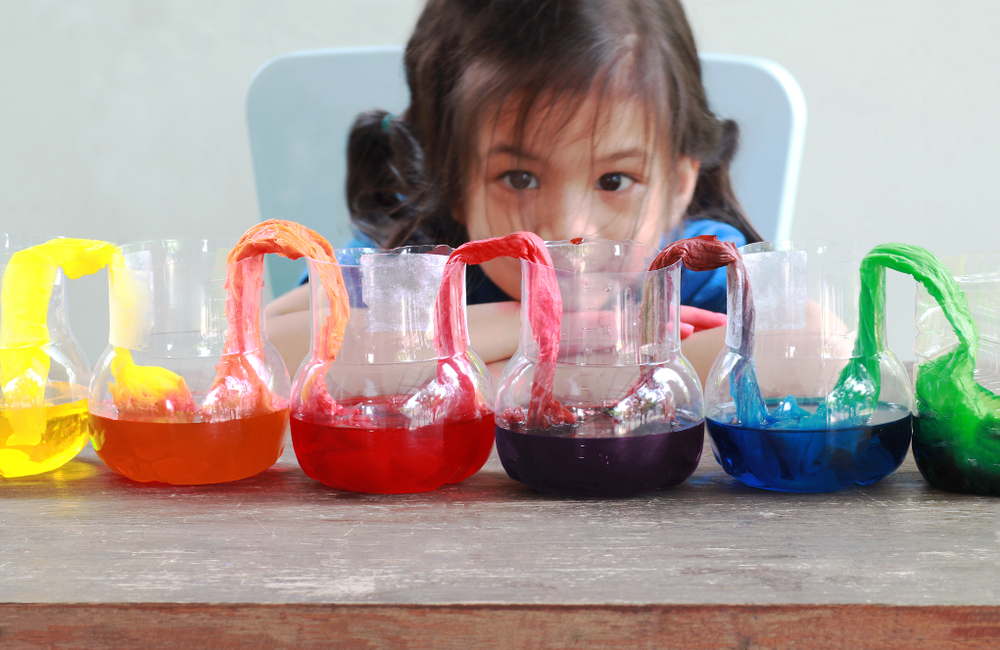 School's finally out, and it's only a matter of time before the first "I'm BORED!" comes out of a child's mouth. My children hold the record for two hours into the first day of summer before the dreaded statement was said. As parents, we have to balance having fun activities and trips planned to keep them busy while also not doing everything for them so they can learn how to be "not bored" on their own. My suggestion is to have a quick go-to list of fun STEM activities or other at-home science experiments that call for everyday household items. The goal here is to incorporate some science — and yes, a little mess — with enough fun that they don't realize they are learning anything.
Hydrophobic Chocolate
Supplies:
Cocoa powder
Milk or water
Spoon
Bowl
Straw
Instructions:
Did you know cocoa powder is hydrophobic, which means it repels water? A fun way to test this is to get a spoon of cocoa powder and a bowl of water or milk. Dip the cocoa into the liquid and when you lift the spoon back up, tap the cocoa powder with a straw or something similar and watch the powder instantly "dry." Try other powders such as flour and see what else is hydrophobic and what isn't. If your kid likes charts, make a fun poster of everything you tested!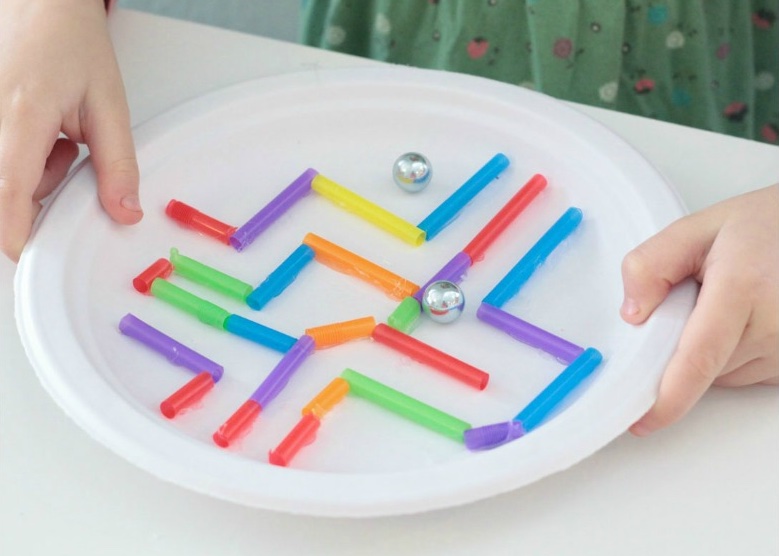 Paper Plate Mazes
Supplies:
Paper plates (ones with high edges work best)
Marbles
Scissors
Construction paper
Straws
Tape or glue
Markers or crayons
Instructions:
Create a fun marble maze by constructing tunnels out of straws or construction paper for your marble to go through and tape or glue to your paper plate. Another method is to create paths with your straws and try to keep the marble inside to the finish line. The options are endless — we would love to see what you create!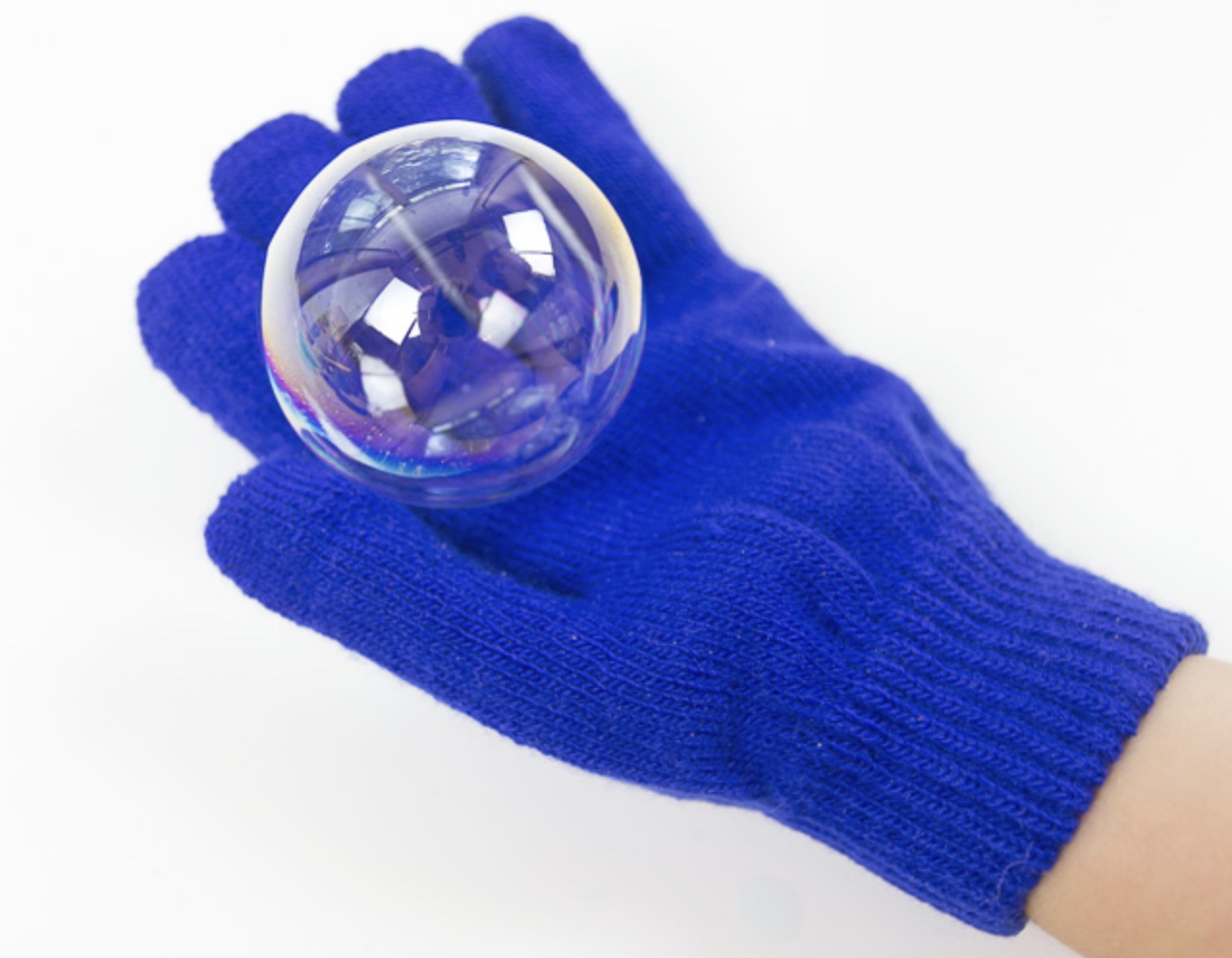 Unpoppable Bubbles
Supplies:
Water
Dish soap
Sugar
Bubble wand (you can make your own with pipe cleaners)
Knit winter gloves
4 tbsp. of water
1 tbsp. of concentrated dish soap
2 tbsp. sugar
Instructions:
Many homemade bubble recipes call for glycerin, which we don't normally have at home, so I found this bubble-making alternative! In a small bowl, combine water and dish soap. Stir in sugar gently until dissolved, and you're ready to go! Use the gloves to catch the bubbles and move them around.
Refraction Fun
Supplies:
Tall glass jar
Water
Paper
Markers
Instructions:
Fill a glass with water — the wider the better. Then take a small piece of paper and have your child draw a design. Have them stand on one side as you take the paper and slide it behind the cup. As you do this, they will notice the design they drew "flipping," thanks to the refraction in the glass. You can pretend it's a magic trick, but really, it's just science!
Paper Chain Contest
Supplies:
Construction paper
Scissors
Tape
Instructions:
This is a super easy activity with a challenge! Have children cut strips out of one single sheet of paper and make a chain out them. The winner is the one who can make the longest chain. This takes some thinking — is it better to cut skinny or thick strips?
Coke Lava
Supplies:
Large pitcher or vase
Coke
Mentos
Cooking oil
Instructions:
We've all seen the Coke and Mentos reaction videos, BUT have you ever tried it with cooking oil? The oil is less dense and floats to the top which contains the Mentos reaction. Start by pouring equal parts oil and Coke, and let them separate. Then plop in a few Mentos and watch the lava lamp-like reaction!
Storm Replicator
Supplies:
Glass jar
Water
Shaving cream
Food coloring
Instructions:
Fill a wide glass jar with water about 3/4 of the way full. On top, spray some shaving cream to make "clouds." Finally, drop food coloring on top of the shaving cream and watch it "rain" below. This can be done with one or many colors, it's up to you!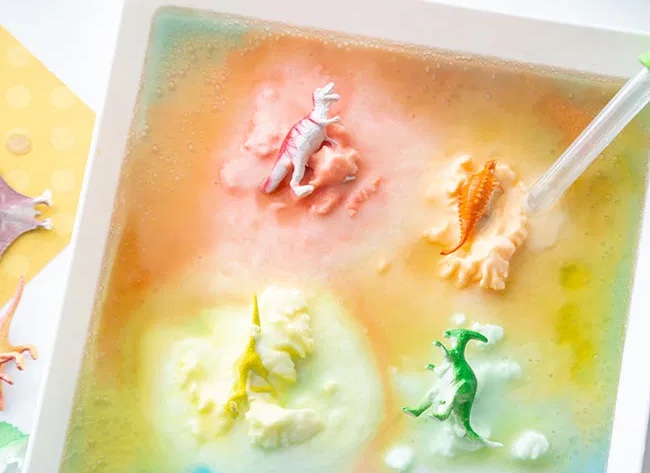 Fizzing Dinosaur Eggs
Supplies:
Baking soda
Water
Cup
Small toys (dinosaurs, etc.)
White vinegar
Food coloring (optional)
Instructions:
This fizzy dinosaur eggs activity was one of my class's favorites this year! Start by adding 1-2 drops of food coloring to 2 tablespoons of water (you can also skip the food coloring to make the eggs white). Next, add 1/2 cup of baking soda to a bowl and add in the water/dye mixture. Mix until crumbly, you can play with this and add either more water or more baking soda until you can pick it up. Once you reach the right consistency, place the dinosaur inside and pack it around, making an egg shape. You can put the eggs on a tray and freeze them so that they hold up better. Here comes the fun part! Instructions say to use a dropper with vinegar, but my kids enjoyed experimenting with paintbrushes, droppers, and spoons to change how quickly the eggs dissolve. Depending on how old your kids are, you can explain the reaction was due to an acid and a base combining.
I hope this gives your family some fun ideas to keep your kids excited about learning and having fun! Pinterest is full of ideas, and lately, I've really enjoyed finding science and art teachers on TikTok! Some of my favorites are @mrslukeslab and @cassie_stephens.
We hope you'll share pictures of your STEM activities and experiments with us on Instagram using #JacksonvilleMomSTEM!