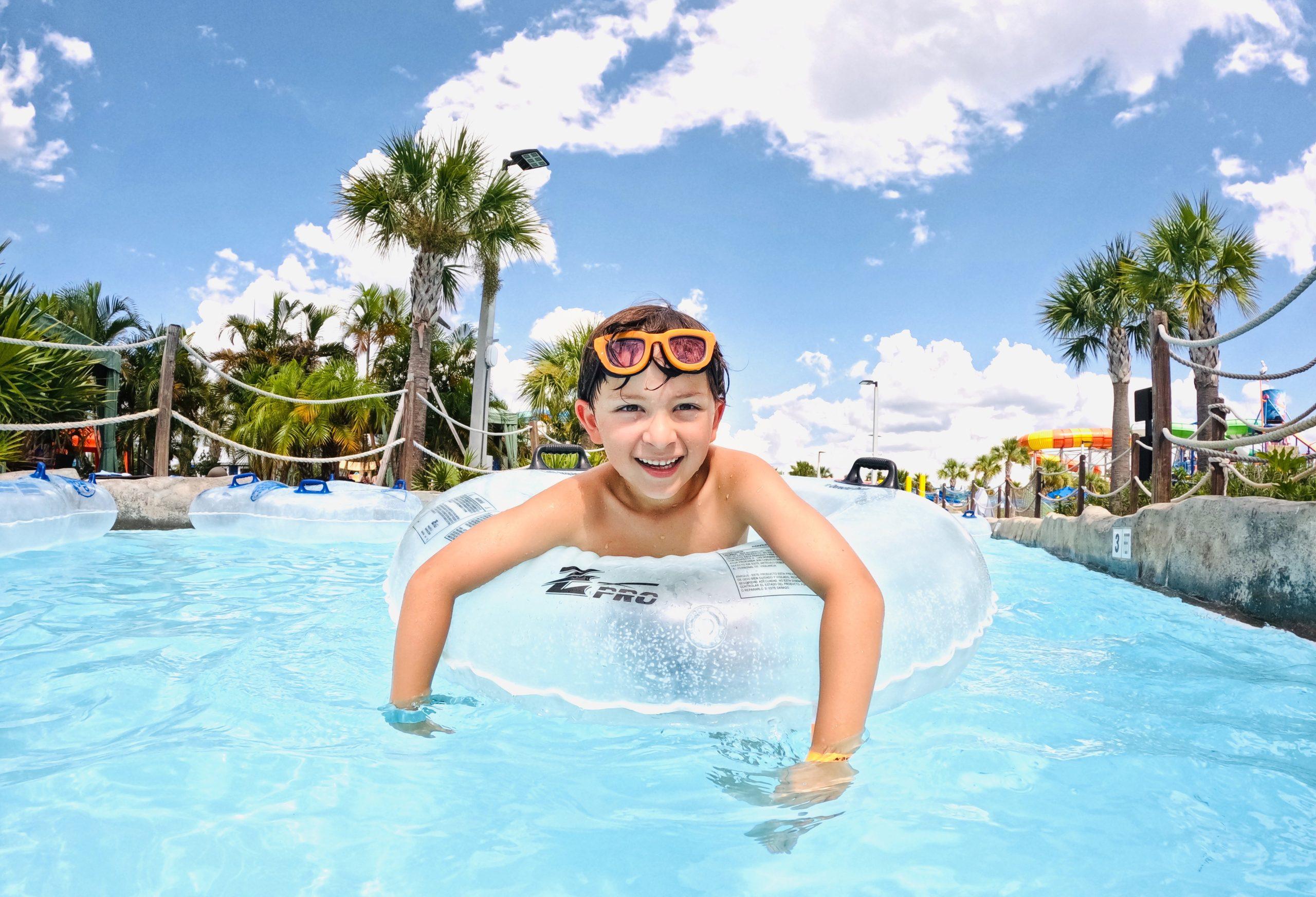 Summer break may be over, but it's still so hot outside! One way to beat this crazy heat wave is to go to a water park and cool off. We recently discovered Island H2O Water Park in the Orlando area and wanted to do one last out-of-town hurrah before school started. We also wanted to avoid the crowd and opted out of places like Universal's Volcano Bay, Disney's Typhoon Lagoon, and SeaWorld's Aquatica, so we checked out this water park we always passed by when driving in Orlando. Island H2O Water Park is a hidden gem right next to Margaritaville Resort — and we had the best day!
It's great for families with young kids. My 3-year-old, Lochlan, is still too short for most of the rides there, but there are two places where he had so much fun. One is the Pelican's Paradise with water slides made just for him and where this huge bucket of water splashes every other minute. The other is the Candy Stripe Cove where he can ride a playground swing and splash in the water at the same time. That area was perfect for tiny toddlers.
We enjoyed the Chat Creek lazy river also, and the day we happened to go there was on a Movie Night at the Live! Lagoon wave pool. My kids enjoyed lounging in the big pool while watching The Boss Baby 2 movie on a giant screen! Another area called Level Up is perfect for the sports fan in the family. My 7-year-old, Lincoln, was obsessed with the rope course where you get to balance on these floating clams. There's also a basketball area where you can play hoops. Children under 48″ tall just have to wear life vests at all times.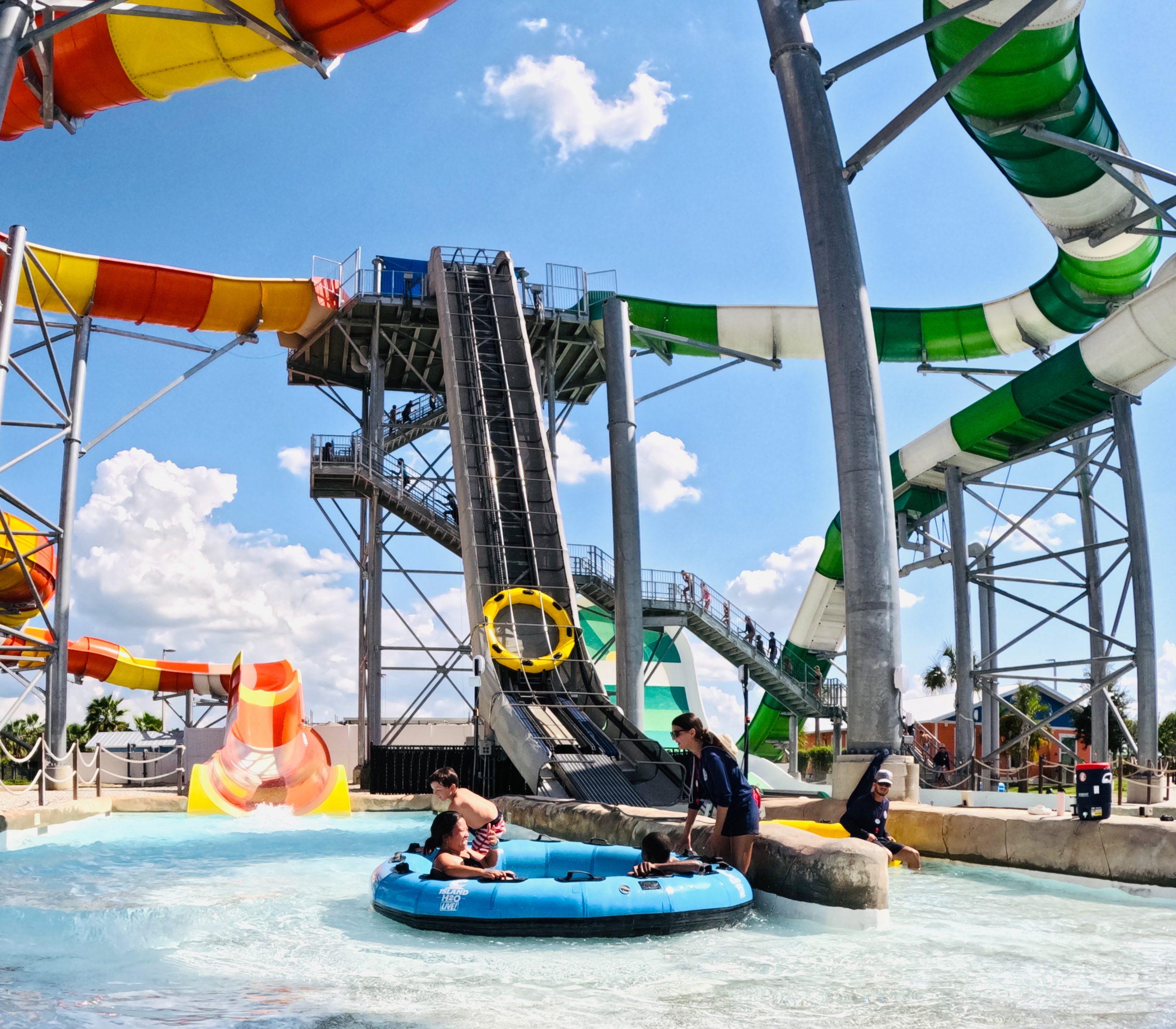 The lines for the rides were not long at all, and we got to check out a bunch of rides over and over again. It is a lot of walking up the stairs, so be prepared for that! One ride requires you to carry your own tube all the way up to the top, but Lincoln enjoyed the tube slides that we went back a few times.
The family raft rides have a taller height restriction, so my 3-year-old couldn't join us. My husband and I myself took turns watching him while one of us went with our other son. Again, the line wasn't long at all, so it was a blast for us to keep going back and forth. Be sure to download the app so you can see the height requirements prior to riding the rides. You get these smart bands once you enter the water park, and be sure to sync it with the app. You can customize your music preference, so when you go down a slide, you'll hear your favorite tunes.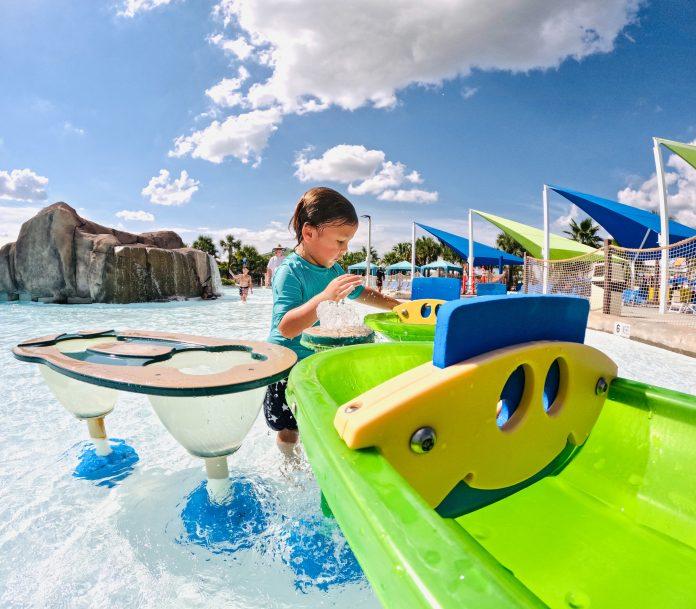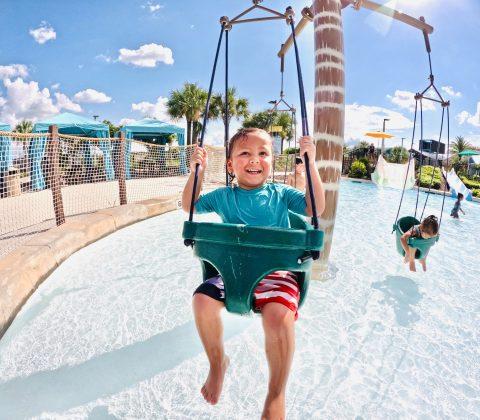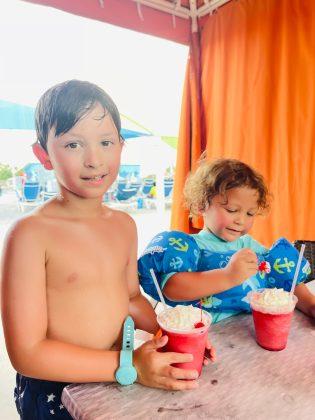 The water park is all about social media; streaming and posting your experience is part of the fun. Island H2O has photobooths located everywhere in the park where you can take selfies and record those photos and videos in the app. All you need to do is sync your smart band with the app and tap it at special kiosks. Some attractions record video when you go down the slide, and then you can share this with your friends.
You'll find these wristband stations all throughout the park and rides as well, and the more you swipe, the more points you can collect. These points are good toward park perks such as free ice cream and other in-park discounts.
READ: Jacksonville Day Trip: Daytona Lagoon Waterpark
Cabanas are totally optional, but I highly recommend them if you have young kids with you. We didn't have to worry about finding a shaded area to put our stuff down. We had our own fridge, and it came with unlimited bottles of water — although my kids opted for strawberry milkshakes instead! Outside food is not allowed in the waterpark, but we had a lovely server who took our drink and food orders. The kids love the free lollipops she gave them.
Overall, if you're just looking for a different scenery but don't want the crowd, I would definitely check out Island H2O Water Park. They are open all the way through Thanksgiving Day weekend. Margaritaville Resort is a walking distance away, so even stay for the whole weekend and make a fun family weekend out of it.
My son exclaimed, "This is just like Great Wolf Lodge — but outdoors!" Just be sure to bring sunscreen and your own towels! Otherwise, they have a lovely souvenir shop for your essentials.
For more water park fun, check out our post on Water Park Day Trips from Jacksonville!
Photos courtesy of Aaron Lundy and Corinna Hoffman.