If your summer plans include a trip to the beach, then I've got some great crafts & activities for your kids. Perfect for a rainy Jacksonville afternoon, these crafts just require a few things from around the house and a couple of items you can collect directly from the beach.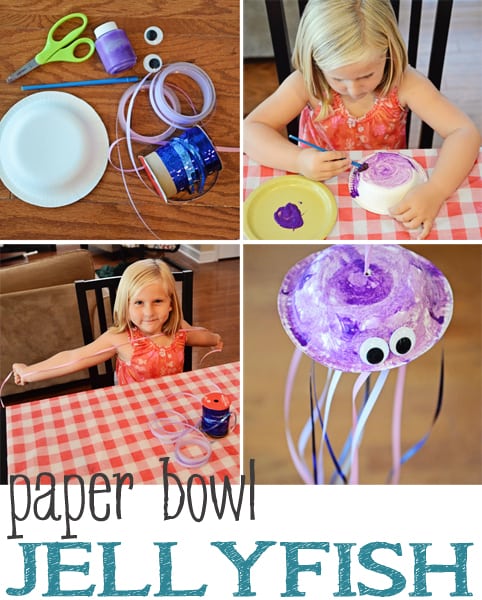 Paper Bowl Jellyfish
This cute jellyfish is exactly the type you do want your kids to play with. My daughter chose to make her jellyfish purple with matching tentacles.
Supplies: Paper Bowl, Ribbon, Scissors, Paint, Google Eyes
Directions: Start by painting your jellyfish. While it's drying cut your ribbon tentacles. I let my daughter measure each strand a full arms length and then cut it for her. We cut a total of 10 pieces of ribbon. Tie all your ribbon together with 1 knot. Poke a hole in the top of your jellyfish and thread your tentacles through so that just a small amount sticks through and the rest hang down the bottom. Glue on some google eyes and allow them to dry.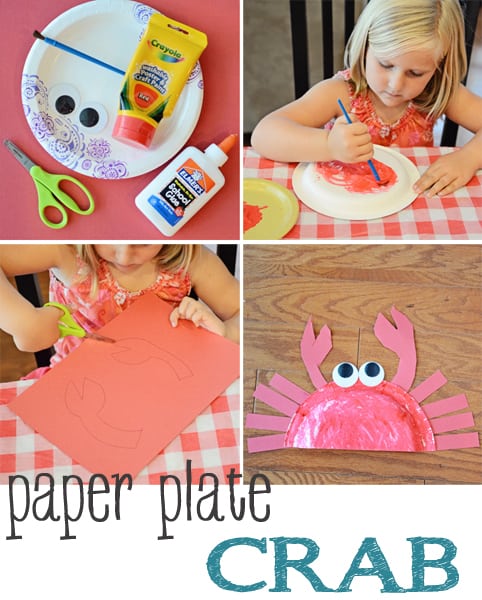 Paper Plate Crab
My 4-year-old absolutely loved this craft. Her favorite part was cutting out the crab claws all by herself. My – year-old wasn't interested in making his own crab, but he did take it upon himself to tell us some crab facts while we were working. He pointed out that not all crabs are red and we might want to make a blue or white crab.
Supplies: Paper Plate, Paint, Glue, Scissors, Construction Paper, Google Eyes
Directions: Start by painting the back of your paper plate. While your paint dries, cut out crab legs and claws from your construction paper. I just drew freehand some claws and small legs and let my daughter do the cutting. Glue on your crab legs and google eyes and let everything dry.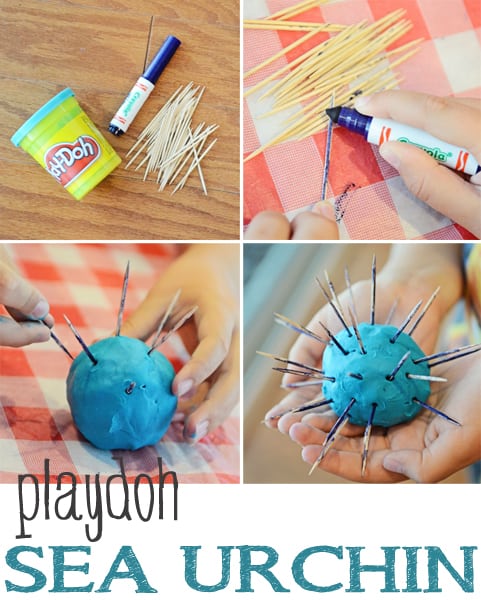 Playdoh Sea Urchin
While my 7-year-old wasn't very interested in the cutesy crab and jellyfish, he was very interested in making a sea urchin. I highly recommend you use washable markers for this project because it gets all over the kids' hands.
Supplies: Playdoh, Toothpicks, Markers
Directions: Start by using your marker to color the toothpicks. Roll your playdoh in a big ball and add your sea urchin spines. We allowed ours to dry for a few days until it was hard. This would also be fun to do with clay.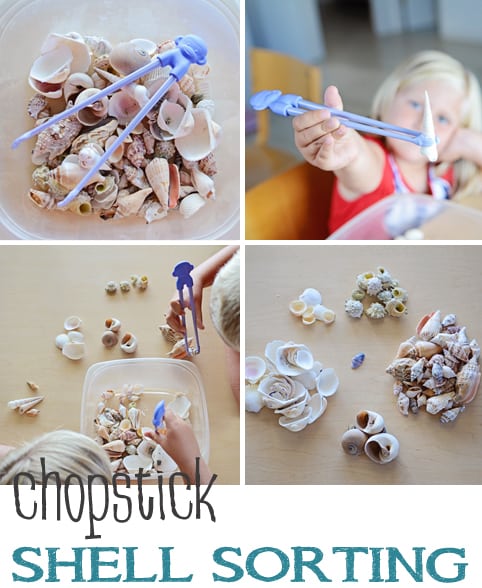 Chopstick Shell Sorting
I had originally planned on doing this activity with my 4-year-old, but my son, who is 7, was intrigued and wanted to join her. This is a great activity to teach kids about sorting and classification, and it is also a great way for little hands work on their fine motor skills.
Supplies: Bucket of Shells, Kid Chopsticks
Directions: I began by talking with my daughter about different ways we can sort items, big & little, round & square, dark & light. I asked her to look at all the shells and think about how she could separate them. That's when she declared she wanted to sort them into two piles, pink and not pink. And that's when my son stepped in.
They decided to sort them by type of shell. They even started trying to pass shells to one another using the chopsticks in an assembly line style to sort them. The best part about this activity was when they were all done we could put the shells back in the bucket and sort them using a different criteria (maybe pink, and not pink this time).