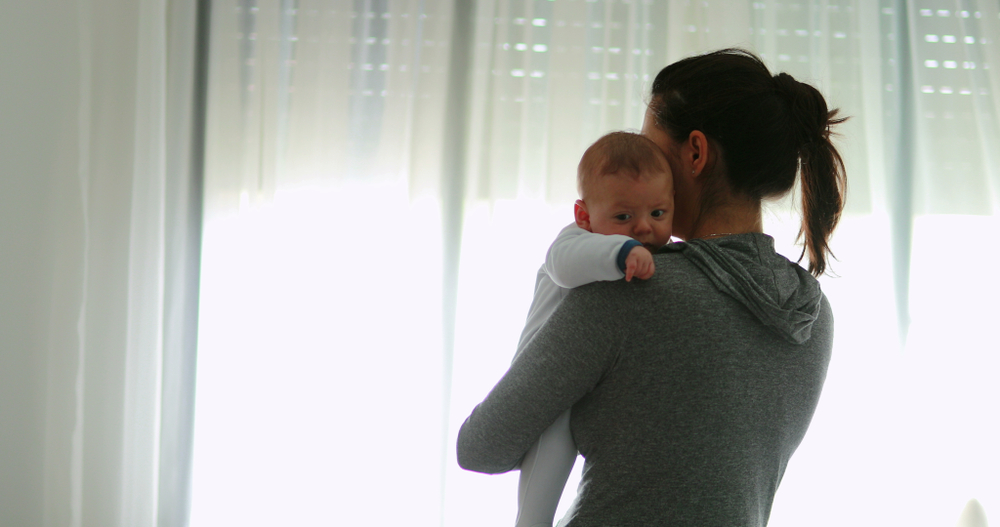 Dear New Mom,
I know that right now it feels as if things are never going to change. You may have quarantined all of pregnancy. You may have had a virtual baby shower instead of an in-person one. Depending on when you had your baby, you may have found yourself nervously alone in the ultrasound room, hoping that you could be strong enough to face any bad news without your partner by your side. You may have given birth alone, or had to FaceTime in your mom and doula, limited to just one support person.
But it didn't stop when the baby arrived. You may not have been able to travel with your baby to introduce them to their great-grandma, or aunts or uncles or cousins, or they may not have been able to come to you. The help and family support you looked forward to is gone, too high a risk to consider exposure.
Or maybe you were able to get some help for a period, but now everyone is gone, and it's just you and your baby and partner, in your house day after day, with no end in sight.
I'm in this COVID Baby Club with you — my second baby was 5 months old when everything shut down. He's never left Jacksonville. He didn't meet my sister until he was 9 months old. He's never met his great grandparents. The first time we went to someone else's house later into the pandemic, he wouldn't even leave my lap.
This second time around is so much lonelier than the first. No library storytime to fill the hours on a Tuesday morning. No mommy-and-me yoga. No making connections as you casually drop into an indoor playplace for an hour, if you're even comfortable doing that. Even trying to find a group meeting in person is a challenge. Who wants to attend a Zoom breastfeeding group?
I feel lucky, at least, that this is my second baby. I do have mom friends, friends I made going to moms groups and the park and Bay & Bee. We have our group text thread where we vent, cheer each other on, and ask for advice.
Dear first-time moms of any baby born since March 2020 — I promise motherhood is not always this lonely. As the world moves forward into normalcy, so will you. You will connect with other moms. You'll figure out how to leave your house with your baby. Your baby will have friends. Eventually, you may even have to figure out how to juggle three kids' birthday parties in one weekend.
Locally, I know there really aren't too many opportunities to find connections right now. But there are a few, if you're comfortable getting out.
Bay & Bee is offering open play as well as age-based meetup groups. This beautiful, clean environment (adults are asked to wear masks) is a great way to make connections with other moms in your stage of life.
Intracoastal MOMS Club is my ride-or-die group. We're meeting about once a week, usually at a park or nature walk, along with a Moms' Night Out once a month.
Mom Meetup Jax is another group currently meeting about once a week at a park and coffee shop, as well as mom meetups throughout the month.
The Jacksonville Mom Neighborhood Facebook pages are also a fantastic way to get advice and hear about local events from moms in your neighborhood.
And, hey, maybe our babies will eventually leave Jacksonville and meet their great grandparents.
Love to you, new moms. You got this.