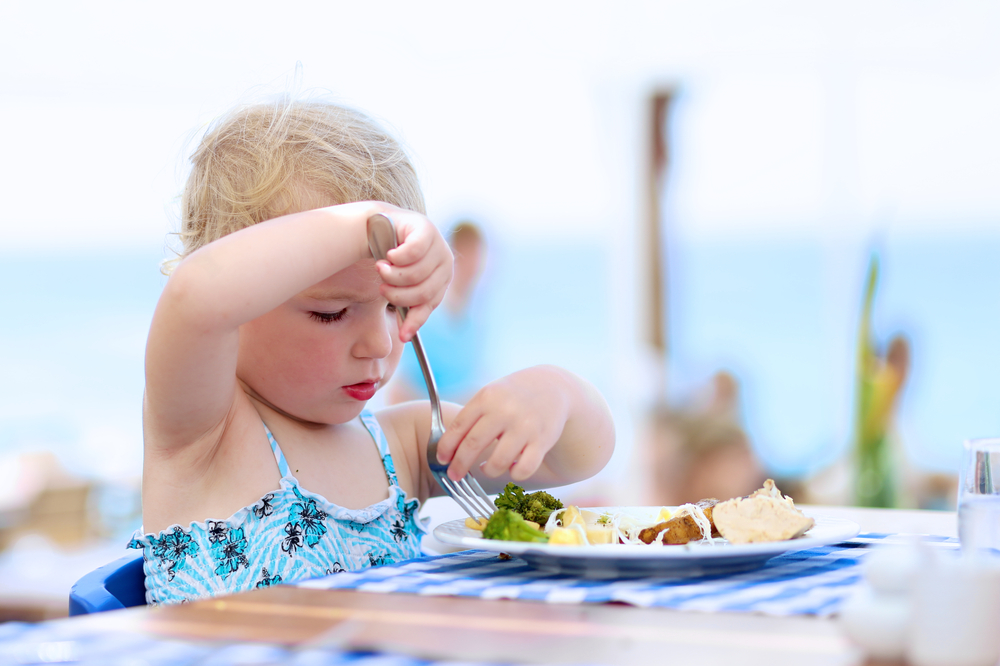 We are knee-deep in the terrible twos — and technically it's only been two months. My older son was also challenging at this age, but I was seven years younger and probably had more patience and energy then.
What I remember from the first go-round was that trying to go out for a family meal was no fun. The highchair was the last place my son wanted to be. The meal couldn't come fast enough. The environment was not welcoming to children. We would try to distract him with the kids' menu and crayons, but those only ended up in our drinks, or worse, the next table over. Tablets were just coming out, and we didn't have one so my work BlackBerry was not an option for screentime. We literally scrambled throughout the entire meal to keep him from fussing, crying, throwing… you name it. It normally ended in a massive meltdown with a side of embarrassment.
Looking back, I don't remember restaurants catering to families the way it seems many do now. And that's a requirement when it comes to our new dining-out strategy, so it's a more pleasant experience for everyone — especially other patrons and the waitstaff. We now only dine at restaurants that offer kid-friendly surroundings, a safe area to roam, a yard or table games, fresh air and/or outdoor seating, and lastly, adult beverages. It's that simple; give us somewhere to go where kids can be kids and adults can relax a little without being stressed out the entire meal, and you can have all of our money!
I'm pleased to say Jacksonville is adding more and more restaurants that fit this requirement. We live near the beach, so that's the area we tend to frequent, but we've been branching out to keep things fresh and so far, so good. Here are some of our favorites:
ABBQ (461 Atlantic Blvd., Atlantic Beach): ABBQ is one of our go-to restaurants. The outdoor courtyard area is easy to keep an eye on your kids and is surrounded by fencing. Cornhole, Connect Four, an open space to run… needless to say, we are regulars.
Lulu's Waterfront Grille (301 Roscoe Blvd. N., Ponte Vedra Beach): Lulu's is son's all-time favorite because of the putt-putt course and the chance to hit golf balls into the Intracoastal. My favorite for the sunsets and fresh seafood!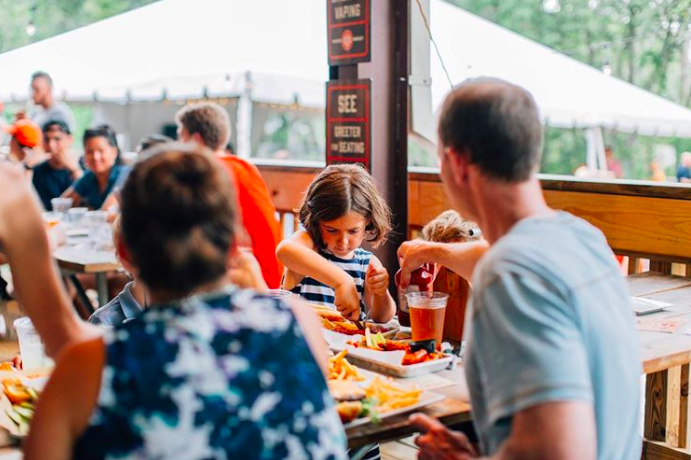 Wicked Barley Brewing Company (4100 Baymeadows Rd.): Wicked Barley is probably the most likely place for your kids to finish their meal thanks to the "Lil Devil" menu. Think PB&J, grilled cheese, and ice pops. But they may be too busy playing on the boardwalk along Goody's Creek or laying in a hammock checking out the latest TikTok videos.
Palm Valley Outdoors Bar & Grill (377 South Roscoe Blvd., Ponte Vedra Beach): Palm Valley Outdoors' outdoor patio offers a great view of the Intracoastal and lots of boat traffic if your little ones like boats. You can even rent a fishing pole and make a few casts a few feet from your table. Don't forget to go into the bait shop to meet the resident rooster.
Cruisers Grill (319 23rd Ave. S., Jax Beach): I'm a sucker for ranch, but also the newly renovated Cruisers which is family-friendly with outdoor dining options and is a great stop after a day at the beach. Kids can look forward to the Tootsie Pops that come with the check.
The Bearded Pig (1224 Kings Ave.): This BBQ spot offers ample outdoor space, a large chalkboard for the kids to doodle, a playground, and a beer garden. Located downtown, it's great for pre-gaming before Jags games and concerts.
Clark's Fish Camp Seafood Restaurant (12903 Hood Landing Rd.): Clark's is a far drive for us, but the stuffed animals on the wall are guaranteed to get your toddler's attention. The live alligator exhibit is pretty cool, too.
Sliders Seaside Grill (1998 South Fletcher Ave., Amelia Island): The beachfront Sliders is just steps from the beach and even has a playground and sandbox to keep the kids busy while the parents enjoy delicious local seafood.
What are some of your favorite family-friendly restaurants in Jax?