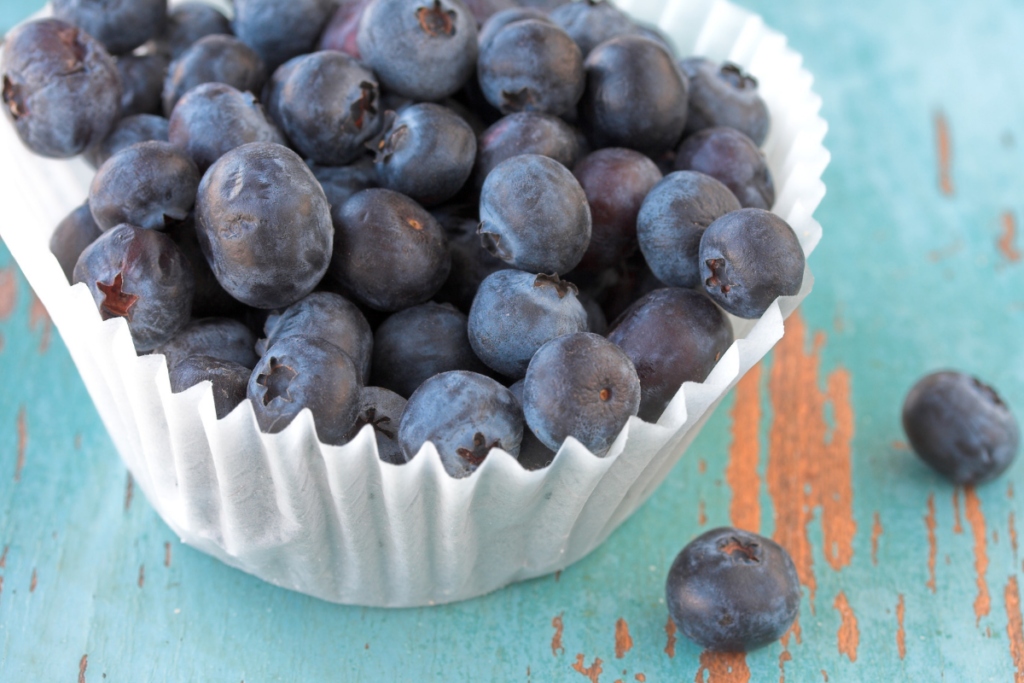 Blueberry season is right around the corner here in Jacksonville. Typically the farms open in April and stay open through early July, but weather conditions and the amount of rainfall we received during the year can always impact exactly when the crops will be ready. Lucky for us there are several places where you can pick your own blueberries right here in Jacksonville.
Before you set off on your blueberry picking adventure there are a few things to remember to make your day a success. Apply sunscreen and bug spray before you go. Bring cash; almost none of the farms on our list take credit cards. Consider packing a snack and drink to keep little ones from getting cranky during the adventure. Plan to go early, lots of farms will only stay open as long as there are berries on the bushes. Lastly, and most importantly, contact the farm ahead of time to make sure there are berries available and to confirm their hours.
Please call or contact the farm before your trip!
---
Aunt Zelmas Blueberry
Located in Island Grove, about 45 minutes from Jacksonville. A U-Pick blueberry farm with 50,000 plants. There are seven varieties of blueberries on the property. Large groups should call ahead. Open seven days a week, but the focus on you pick is Friday Saturday and Sunday, with the hours from 10 AM to 5 PM.
Address: 21209 U.S. 301, Island Grove, FL 32654
Payment: Cash or card
Contact: (352) 317-6110
Blackberry Hill Farm
Located in Middleburg, Blackberry Hill Farm offers organic locally grown honey, blueberries, and their famed muscadine grapes! U-pick blueberries $3 per pound. Open Tuesday 5 p.m. to 7 p.m. and Thursday 5 p.m. to 7 p.m. Saturdays 7 a.m. to 12 p.m.
Address: 2995 Thunder Road Middleburg Florida 32068
Payment: Cash
Contact: Call ahead at (904) 600-1450
Blu By U
Formerly Veterans Farm, Blu By U uses natural growing practice. Their picking season should open at the end of April and run through the summer. They are open Tuesday & Thursday 9am-1pm & Saturday 9am-6pm.
Directions: 5571 Long Branch Rd, Jacksonville, FL 32234. From I-295 take Normandy Blvd west approximately 15 miles. Take McClelland Road left and follow to Long Branch Road, take Long Branch right and follow until you see mailbox 5571. Take a left down the drive and follow through the tall gates.
Payment: Cash or card
Contact: (904) 465-1811 or [email protected]
Braddock Blueberry Farms
Braddock Blueberry Farm uses natural practices, but they are not certified organic. You might want to bring a small step stool to reach the berries. Call them to find out the exact hours for the week and if they will be open for picking. They are typically open the end of May through the end of June.
Directions: 4136 Thomas Mill Road, Jacksonville, FL 32218. Go north on Lem Turner Road to Braddock Road (4 miles north of I-295), turn west on Braddock Road, go 3/10 mile, turn south onto Thomas Mill Road and proceed on the dirt road to the end. The field is through the metal farm gate on right.
Payment: Cash
Contact: (904) 679-3880

Clay Ranch Berry Farm
Clay Ranch Berry Farm is open for U-pick or pre-picked Blueberries until around the end of May. They are open every day from 9 am-6 pm, $3.50 a lb for Upick and $20 for a 5 lb bag of pre-picked. Please check the Facebook page Clay Ranch Berry Farm for updates if we are closed due to the weather.
Directions: 1307 SR 100, Florahome FL. Located in Grandin FL off of State Road 100 in between C.R. 315 and Savel rd. You will see the signs.
Payment: Cash, Check, Venmo & PayPal
Contact: Chance Clay (386) 937-1140 for more information
Kent's Blueberry Farm
Kent's U-Pick Fresh Blueberry Farm uses no pesticides on the blueberry bushes. They try to estimate how plentiful the berries will be to accommodate and if weather permits. The season usually lasts 6 weeks. Mid-May to end of June. During blueberry season, the blueberries do not ripen all at the same time. There are no restroom facilities. They are open 2-3 days during the week 8am-12pm, call ahead to see what days and to make sure blueberries are available for picking.
Directions: Blueberry field is located at the end of Thomas Mill Rd, Jacksonville, FL 32218. Starting at Lem Turner Road and Highway I – 295, head out north on Lem Turner Road (SR-115) toward Callahan, go 4 miles to Braddock Road. Turn left onto Braddock Road, go one block and turn left onto Thomas Mill Road (the first part is short and paved). Continue straight onto the dirt part a short distance and look for the windmill. Turn right at the windmill for the entrance and parking. The parking area can accommodate 30 vehicles at a time. For more detailed directions: Go to Google and search for Kent's Blueberry Farm for a map and pictures.
Payment: Cash
Contact: (904) 768-3484 Home (904) 868-7822 Cell

Morning Belle Farms
Morning Belle Farms is located in Woodbine Georgia, about 45 minutes north of Jacksonville. They boast 4 acres of blueberry plants with almost 5,000 plants. Harrietts Bluff Farm is USDA organic certified by the Georgia Crop Improvement Association. There is a port-o-potty bathroom available for use while visiting the farm.
Directions: 762 Pine Dr. Woodbine, GA 31569. Go north on I-95 to Exit 7 (Harrietts Bluff Road). Turn right on to Harrietts Bluff Road.  You will be going east, after about three miles you will cross a saltwater creek. Then take your first left on Pine Dr. Go to the end of Pine Dr. (about one mile).  The farm will be on your right.
Payment: Cash or check
Contact: (404) 735-7527 or [email protected]
OPEN- Thursday-Saturday, 9am-5pm
HNH Blueberry Farm
HNH Blueberry Farm is located in Bostwick, Florida, about an hour south of Jacksonville. This is a family farm with lots of blueberry bushes.  They are typically open on the weekend, Saturday 8-7 and Sunday 1-6, but check their Facebook page for updates on availability.
Directions: 130 Bostwick Park Dr, Bostwick, Florida. HNH Blueberry Farm is south of Green Cove Springs off of Highway 17.
Price & Payment: $3.25 per pound u-pick, $4 per pound already picked, cash
Contact: (386) 937-5246
The Blueberry Ranch
The Blueberry Ranch is located north of Jacksonville, off Highway 17 in Yulee, Florida. Our U-pick season usually begins around the end of May and will typically last till the beginning of July. They will be open Wednesday – Saturday, 9am-3pm for picking, but be sure to double-check and make sure there are berries available before heading out.
Directions: 852042 US Highway 17, Yulee, Florida. Take 95 north past Yulee, take exit 380 to Highway 17 south.
Payment: Cash
Contact: (904) 415-0337
Russell Blueberry Farm
Located right here in Jacksonville and in business for over 10 years! Located in the Oceanway area on Denton Road. U-pick season does not begin until June unless otherwise noted. Please call ahead or check the Facebook page for updates!
Address: 14289 Denton Rd, Jacksonville, Florida 32226
Payment: Cash
Contact: (904) 338-6756
Waiting on opening date (probably early June)- check Facebook page
Paul and Sandra Murray (Blueberries and Blackberries)
Open Monday, Tuesday, Friday and Saturday 8am to 6pm
13839 Lem Turner Rd, Jacksonville, FL
(904) 764-9160
Towers Family Farm
Towers Family Farms is family-owned and operated since 2013. In 2014 they planted 10 acres of blueberries, which has since grown to 20 acres, all of which are USDA certified. In 2020 we added a small U-Pick strawberry patch to our farm and are in the process of building a brand new 6,000 sq. ft. event venue. Please check out the events page for the latest information about U-Picks and local availability in Jacksonville. We are open daily from 11am to 4pm, and closed Monday and Thursday.
Directions: 487 Millican Rd., Palatka, FL 32177. About 20 minutes south of Green Cove Springs in Bostwick, or about 15 minutes north of Palatka.
Payment: Cash
Contact: [email protected] or call us at (904)955-FARM from 10am to 4pm
Williams Blueberry Farm
Williams Blueberry Farms boasts a very nice manicured blueberry patch in the middle of a residential area that is easy to reach from I-10. Be sure to go early for the best berries and call to make sure there are some available.
Directions: 2595 Stratton Road, Jacksonville, FL 32221. I-295 to Normandy Blvd; go west approximately .4 miles to Stratton Road.  Turn left, go until you see a Blueberry sign on the left.   Follow the signs.
Payment: Cash
Contact: (904) 866-2647 or [email protected]
Congaree and Penn
Congaree and Penn is located in North Jacksonville on Old Kings Road. They started as a rice farm but have since planted over 5000 Mayhaw trees. They are now offering U-Pick BLACKBERRY days in June. When you arrive, blackberry baskets will be available to purchase in the farm store. From there, hop on a wagon ride to the blackberry field, or enjoy a leisurely walk to the berries. Farm lunch and refreshments will be available to enjoy on the quonset hut patio before or after your berry good time.
Directions:  295 North to Old Kings Road.
Payment: Cash or Card
Contact: (904) 527-1945 or [email protected]
Abshier Blueberry Farm
Located about 2 hours south of Jacksonville. Open Tuesday – Sunday, 8:00am – 6:00pm
Address: 3960 SE 115th Street, Belleview, FL
Contact: (352) 817-2660
Please call before heading out to any of the farms!