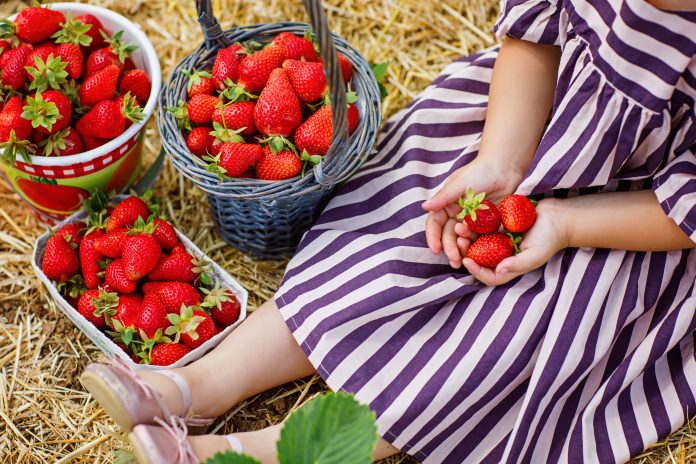 Strawberry season is right around the corner here in Florida. Typically the farms open at the end of March and stay open through April, but weather conditions and the amount of rainfall we received during the year can always impact exactly when the crops will be ready. Many of the farms are located just outside of Jacksonville and make for a fun day trip with the kids.
Before you set off on your strawberry picking adventure there are a few things to remember to make your day a success. Apply sunscreen and bug spray before you go. Bring cash; many farms don't take credit cards. Consider packing a snack and drink to keep little ones from getting cranky. Lastly, and most importantly, contact the farm ahead of time to make sure there are berries available and to confirm their hours.
Brown's Farm
Brown's Farm is located approximately 90 minutes southwest of Jacksonville. They've been in business for almost 80 years and boast an impressive 500+ acres. You are sure to enjoy the great produce, friendly service, and affordable prices. U-pick strawberries are scheduled to open in mid to late March. Their store is open Monday-Saturday – Hours: 9:00am-6:00pm. They accept Cash, Check, Debit cards, Visa/MasterCard, Discover.
Address: 18120 NE State Road 26 Hawthorne, FL.
Contact: 352.475.2015 || Facebook
Merck Farms
Merck Farms is a locally owned farm located on the St. Mary's River in Kingsland, GA that provides seasonal fruits and vegetables to the local community. For seasonal U-Pick and We-Pick hours, location, ordering, and other information, please visit Facebook and website or send us an email.
Address: 4745 Clark's Bluff Road Kingsland, GA 31548
Contact: 912.674.0197 || Facebook
Oak Haven Farms & Winery
Oak Haven Farms & Winery is located in Sorrento, Florida, about 2 hours south of Jacksonville. The Farm began as a 20-acre strawberry farm in 1996. The iconic oak tree is positioned in the heart of the farm which serves as a landmark and is celebrated on their wine logo. The farm slowly expanded over time to include a country kitchen that offers u-roast hot dogs, soda and chips and home-style strawberry shortcakes, and ice cream sundaes on WEEKENDS during the strawberry season (Late December-Mid March).
Address:  32418 Avington Road (Formerly Bird Road), Sorrento, FL 32776
Contact: 352-735-1996 || Facebook
Pappy's Patch U-Pick Strawberries
Pappy's Patch is located in Oviedo, Florida, approximately 2 hours from Jacksonville. Cash and checks only at Pappy's Patch and NO set hours. Check their Facebook page for updates or call! Closed on Mondays.
Contact: 407-366-8512 || Facebook
Rogers Farm
Rogers Farm is located approximately an hour south of Jacksonville, just north of Gainesville, and offers u-pick strawberries as well as already harvested produce.
Address: 3831 NW 156th Ave., Gainesville, FL, 32609.
Contact: 386-462-2406 || Facebook
Sweet Berries of Crawford Farms is located about an hour southwest of Jacksonville in Lawtey. They offer u-pick strawberries as well as other fruits and vegetables for sale. Arrive early and check the FB page for availability! Bring your own bucket lined with a plastic bag for weighing.
Address: 21175 NW 43rd Ave, Lawtey, Florida
Contact: 904-545-5688 || Facebook
Since crop availability can vary, please be sure to contact the farm before heading out to pick strawberries.
Towers Family Farms is family-owned and operated since 2013. In 2014 they planted 10 acres of blueberries, which has since grown to 20 acres, all of which are USDA certified. In 2020 we added a small U-Pick strawberry patch to our farm and are in the process of building a brand new 6,000 sq. ft. event venue. Please check out the events page for the latest information about U-Picks and local availability in Jacksonville. We are open daily from 11am to 4pm, and closed Monday and Thursday.
Directions: 487 Millican Rd., Palatka, FL 32177. About 20 minutes south of Green Cove Springs in Bostwick, or about 15 minutes north of Palatka.
Payment: Cash
Contact: [email protected] or call us at 904-955-FARM from 10am to 4pm
Looking for u-pick farms a little further away? Check out this link to see farms across Florida.
---
Strawberry Festivals
In addition to the you-pick farms, there are two large Strawberry Festivals that take place each year. These make for a great day trip from Jacksonville.
Clay County Strawberry Fest – March 5-6, 2022
5th Annual Strawberry Fest – March 5 & 6 at the Clay County Fairgrounds, Green Cove Springs. Saturday & Sunday 10am-5pm.
Family Fun & Festivities, Plant City Strawberries, Art & Crafts, Delicious Food, Free Bounce Houses, Organic Strawberries, Strawberry Shortcake, Live Entertainment, Free Rock Painting, Strawberry Fudge, Pony Rides, Free Strawberry Relay, Strawberry Wine Slush Mixes, Face Painting, Free Hula Hoop Contest, Pie Eating Contest, Free Petting Farm, Berry Cute Baby Contest, Free Inside Toddler Play Area, Free Sack Races, Train Rides, Free Corn Hole, Yummy Treats & Much More!
Directions: 2497 SR 16 W, Green Cove Springs, FL 32043. From I-95 exit 318 – SR 16 W, (go past US 17). From I-295 exit 10, take US 17 S to C.R. 315, go 4 miles to SR 16 turn right. (Located South of Jacksonville, West of St.Augustine)
Contact: (386) 860-0092 | wwwClayCountyFest.com [email protected]
Bradford County Strawberry Festival – April 2 & 3, 2022
The Bradford County Strawberry Festival takes place in Starke Florida, an hour south of Jacksonville, each year and offers live music, arts & crafts, a kid zone, and of course, strawberries.
Directions: 100 East Call Street, Starke, FL 32091. Take I-10 West to 301 South. Follow 301 South into downtown Starke.
Contact: 904.964.5278
Plant City Florida Strawberry Festival – March 3-13, 2022
The Plant City Florida Strawberry Festival is ranked one of the best by the International Association of Fairs and Expositions. Located on the west coast of Florida, this festival is approximately 3 hours away from Jacksonville but makes for a fun weekend getaway with the family. The festival offers live music, arts and crafts, fair food, and many strawberry shortcake booths.
Directions: 2202 W. Reynolds Street, Plant City, FL 33564. Plant City is located off of I-4, between Lakeland and Tampa.
Contact: 813.752.9194 || Facebook
Did we miss a farm or festival? Please let us know in the comments!