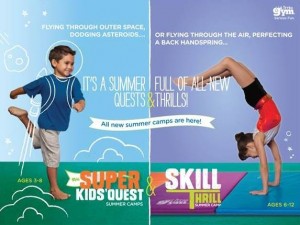 4479 US Highway 17 Suite 4 Fleming Island, FL 32003
For every stage of your child's development—from four months to 12 years—The Little Gym of Orange Park offers a diverse line-up of Core Season and Summer Session programs filled with movement, music, learning and laughter. From week to week and from year to year, our age-appropriate curriculum is designed to facilitate ongoing skill development and maximum fun. Fleming Island children progress at their own pace, developing their confidence as they develop their skills.
Explore the program offerings to find the one that's just right for your child. Then, please join us for a free introductory class to see how The Little Gym of Orange Park can inject some Serious Fun into your child's life and into your own.
The Little Gym of Orange Park offers birthday parties that are full-blown bashes, camps that cure even the bluest boredom and Survival Nights for parents and kids alike.